Daimler Trucks has handed over its first all-electric light-duty (7.5-tonne) truck, the FUSO eCanter, to three of its UK customers.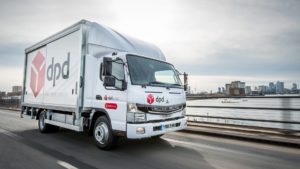 DPD, Hovis and Wincanton will each operate several trucks in their fleets for deliveries in and around London.
"After our launches in New York, Tokyo and Berlin, we are proud to hand over the all-electric eCanter to visionary customers in London," said Marc Llistosella, president and CEO of Mitsubishi Fuso Truck and Bus Corporation and head of Daimler Trucks Asia. "As an emission-free and quiet alternative to conventional trucks, the eCanter is the ideal solution for sustainable urban delivery.
"But we do not stop here. Having access to Daimler's vast global network, we are committed to cooperate with and support local governments in building an E-ecosystem and necessary infrastructure to facilitate the growth of environmentally-friendly distribution systems. At the same time, we are excited to be able to work with cities such as London as they work to create a greener and more sustainable urban environment in the UK."
Mike Belk, managing director of Mercedes-Benz & FUSO Trucks UK, said: "Today is an historic day for London's transport operators. Fully electric trucks are no longer science fiction – we at Daimler are already manufacturing them and now we're putting them into operation with well-known customers. We're pleased to build on our relationships with DPD, Hovis and Wincanton in this way, as they clearly believe the FUSO eCanter is a viable proposition for their urban distribution business."