DHL Global Forwarding has doubled airfreight capacities to support its growing Norwegian seafood exports.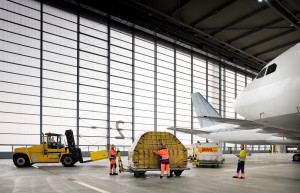 DHL is now deploying a dedicated Boeing 747-400 cargo plane that ships seafood from Oslo to Seoul and Shanghai twice a week. The logistics company said that the new solution will increase the operational efficiency on DHL's transpacific trade lane by performing around-the-world flights.
"As the international leading logistics provider and enabler of global trade, Deutsche Post DHL Group is committed to always support its customers with effective and efficient logistics solutions," said Frank Appel, chief executive Deutsche Post DHL Group. "The introduction of our new around-the-world air freight services not only increases the capacities for the Norwegian seafood industry, it also demonstrates the creative and customer centric approach of our Global Forwarding division."
Ingo-Alexander Rahn, global head of airfreight, DHL Global Forwarding, said: "Given our expertise in temperature controlled logistics solutions and rapid transport by plane, we make sure that the seafood arrives at its destination in the best possible condition.
"Cutting the lead-time by more than 50 per cent and providing seamless logistics processes, furthermore help the Norwegian fishing industry to grow and win considerable market shares with high quality seafood around the globe. DHL does not only provide greater transport capacities of fresh seafood to Asia, we overall contribute to the logistical accessibility of the region and improve the global supply of the time-sensitive goods."