DHL Freight is trialling an LNG-powered truck paired with an over-sized trailer – something not previously possible owing to the design of the tank.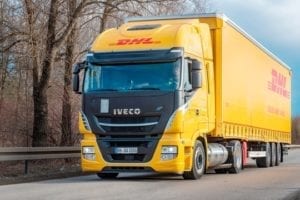 The trailer has an internal loading height of three metres which makes it attractive to the automotive sector as it provides more loading capacity as well as the possibility of loading larger spare parts.
The Iveco Stralis combination will be trialled for a year operating a daily shuttle between DHL's logistics centre and a BMW factory in southern Germany.
"The combination of LNG truck and mega trailer is a promising sustainable solution for automotive logistics," said Uwe Brinks, chief executive of DHL Freight.
"We are able to meet the customer's transport requirements in the best possible way, while also significantly reducing greenhouse gas emissions along the supply chain. The increase in fuel efficiency and proven reduction of harmful emissions that comes with using natural gas help to make long-distance road transport more sustainable."