The FTA has warned that the Direct Vision Standard scheme could fail to deliver the safety improvements the London Mayor hopes for.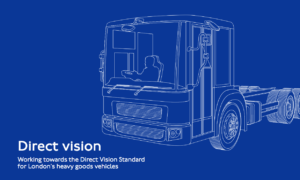 The Direct Vision Standard (DVS) for heavy goods vehicles (HGVs) assesses and rates how much a HGV driver can see directly from their cab in relation to other road users.
The association expressed its concerns after TfL announced new Direct Vision Standard star ratings, which are allocated to different designs of HGV cabs.
According to the FTA, under TfL's DVS proposals, every truck model over 12 tonnes which qualifies for the Euro VI emissions standard has now been allocated a star rating, which TfL claims indicates the standard of visibility from the driver's seat.  From 2020 any truck which does not meet the lowest "one star" rating will require operators to obtain a safety permit, which will be achieved by fulfilling the requirements of a new "Safe System".
"The whole process of implementing a Direct Vision Standard in London has been incredibly frustrating and disappointing," said FTA's head of urban policy, Natalie Chapman. "Especially, since the Mayor seems determined to focus on visibility from the cab, when research shows new technology would deliver far better results.
"FTA's members take safety very seriously indeed and we have been advising our members operating in London to examine all available safety features when procuring new vehicles.
"In fact, TfL's long drawn-out process in implementing the Direct Vision Standard is actually delaying the purchase of new safer, cleaner trucks.  Operators have been forced to postpone new acquisitions, until they are given adequate detail about the star ratings and the standards required by the new Safe System."