E-commerce sales have increased by nearly a quarter since the end of February, as consumers in lockdown moved online.
Data from James & James Fulfilment showed that independent online retailers had seen an average of 23% more orders compared to this time last year, while health supplements and cupboard staples had seen a triple-digit growth in orders between the last week of February and third week of March.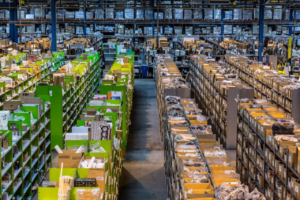 It said that fitness products and electronics had also seen significant growth whereas fashion and beauty products like cosmetics have seen a decrease in sales since the crisis began.
James Hyde, chief executive and co-founder of James and James said: "It's clearly an uncertain time for people, who are adjusting to new ways of living at home, and retailers, who are struggling with peaks and troughs in demand.
"With retail being such an important part of the economy, it's vital that we pull together to support both our current clients and any other retailers that are looking to e-commerce to survive.
"With lockdown now in force, companies like ours will play an ever-critical role over the coming months, in getting essential products to the people who need them – after all, for every 1,000 orders delivered to homes, we remove the need for 1,000 visits to shops."