Brussels Airport Company will be investing €100 million in logistics buildings.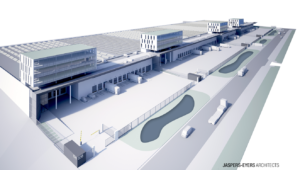 A news 50,000 sq m building on the West side of Brucargo, will be used by four companies, including Kuehne + Nagel, Dnata and WFS. The new infrastructure is also specifically suited for the handling of high-quality and temperature-sensitive products (such as pharmaceuticals).
Brussels Airport will also redevelop existing handling buildings that have direct access to the tarmac. The building in which handling agent Swissport is active shall, in the coming three years, be systematically transformed into a modern storage and office space. In total, it will have a surface area of 30,000 sq m.
An additional new building will provide a secured area for the specific transport of extremely valuable goods. Brinks will be moving into this building in 2019. In addition, Brussels Airport Company is investing in an exclusive inspection area of more than 2000 sq m, fitted out in various temperature and/or light areas, for the temporary accommodation and the shipment of various types of animals.
Arnaud Feist, chief executive of Brussels Airport Company, said: "With these investments, Brussels Airport will remain in the future a crucial hub for air transport and the logistic chains in Europe, at the service of many hundreds of companies in our country.