Dachser is to start operations with two of Daimler's all-electric FUSO eCanter trucks from the Spring of next year – one in Berlin, the other in Stuttgart.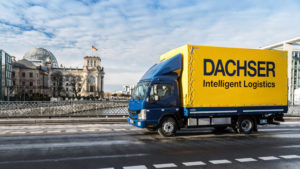 Stefan Hohm, corporate director, corporate solutions, research & development at Dachser, said: "These trucks are part of our City Distribution project and expand our innovative and sustainable concept for city-centre deliveries." This project has Dachser combining tried and true logistics models with new ideas, providing the basis for developing robust and sustainable business models for last-mile deliveries of the future.
"We went for the FUSO eCanter because it's the first all-electric truck to enter full-scale production, and so it will add momentum to this entire class of commercial vehicle," says Hohm.
In Berlin and Stuttgart, the two FUSO eCanters will be incorporated into the core groupage business and will deliver pallets of manufactured goods, either to microhubs or directly to customers. They will also collect goods and bring them to Dachser's branches in Schönefeld and Kornwestheim.