So, unless there is a last-minute breakthrough, the current line on the last-ditch Brexit talks is that a trade deal is "looking very, very difficult at the moment".
Indeed, the prime minister is still warning that come 1st January 2021 "there's going to be change and people need to get ready for that change" – at least according to news reports this morning.
Warning of the impact of that change came yesterday from Ted Baker. It said that a no-deal Brexit would result in a £16.1 million hit on profitability in 2021 due to the "negative impact" of higher duties.
"There is material risk to our future profit if the UK is not successful in signing new trade agreements with the EU and other markets in which we operate," said David Wolffe, Chief Financial Officer at Ted Baker yesterday. That's pretty unequivocal.
The one answer to this balance sheet woe is to up prices. But imagine that taking place not just at ted Baker, but across the economy. And especially in key retailers such as supermarkets. As Kantar points out grocery price inflation is running at 1.4% this year, and the average British household has spent a record £4,206 on groceries so far in 2020, meaning that even moderate price increases could result in the need to balance household budgets next year.
It's not just Ted Baker that's exposed to the risk associated with a Hard Brexit. The Port of Felixstowe, for example, is going through a high profile log-jam. In an operational note it said on Friday: "The Port of Felixstowe, like other major container ports worldwide, is still experiencing a spike in container volumes and dealing with the consequences of the ongoing Covid pandemic.
"In addition, we have had a high number of slow-moving containers of PPE occupying storage space. The current high volumes are expected to last into the New Year and we are working hard to minimise the impact on daily operations and to maintain vital supply chains."
The fear for many supply chains will be that current oversubscription of delivery slots will be replaced by a spike in the processing of goods for import and export come 1st January 2021. The current situation, according to risk management specialists Russell Group, is exposing millions of pounds of trade from importers like Asda, John Lewis and Tesco, and exporters like Rolls-Royce and Diageo to risk. Risk through the impact of a global pandemic is one thing… risk though failed talks that everyone knows the deadline for is something else entirely.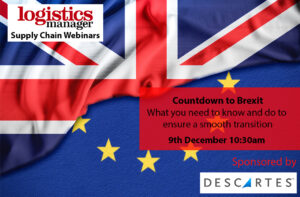 What we do know is that the uncertainty of Brexit has led somewhat inevitably to questions, questions and more questions… and to that end Logistics Manager is here to help.
Tomorrow we will be hosting a webinar with our friends at Descartes to answer all your Brexit questions.
This free-to-attend webinar will look at the current Brexit situation, who is affected and what the implications are for trade with the EU and moving goods between Great Britain and Northern Ireland and what needs to be done to ensure a smooth transition on 1st January 2021.
I'll be joined by Martin Meacock, Director, Product Management at Descartes Systems UK who – thankfully – has years of experience in international trade and customs and regulatory compliance having worked for over 10 years in UK Customs before joining an international trade consultancy firm and becoming technical director developing e-Customs software solutions in the UK.
We've already had plenty of questions come through for this webinar, so get them in early to make sure your questions are answered.