As if business wasn't getting any easier (and GDP fell 19.1% in the three months to May 2020 according to the ONS) the shadow of a no-deal Brexit is looming large. And while the logistics sector doesn't necessarily wish to poke the bear of government right now, the tone of its lobbying is getting a little grumpy.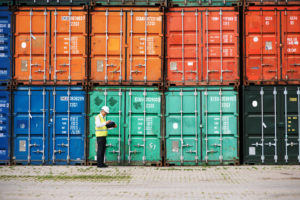 It all kicked off on Thursday of last week, when the European Commission stated – quite rightly – that businesses within the EU needed to prepare of the UK becoming a 'third country' i.e. no longer a member of the EU, or the European Economic Area (i.e. the EU plus Iceland, Lichtenstein and Norway).
The slow dawning of reality was that businesses in the UK used to have access to something for free, and now it was having to pay for the privilege.
The UK government's response was to throw money at the problem, which it did on Sunday by committing to lorry parks near ports, and a giant customs clearance centre in Ashford in Kent, as well as recruiting 50,000 customs clearance staff. What wasn't clear was whether these facilities were for inbound or outbound goods… but details don't make for eye-catching headlines.  As BIFA put it, "government appears to have woken up to the fact that customs procedures are complicated and are not simply about ticking a few boxes".
Indeed, Chancellor of the Duchy of Lancaster Michael Gove said yesterday: "At the end of this year we are leaving the single market and Customs Union regardless of the type of agreement we reach with the EU." That's a pretty unequivocal negotiation tactic… as in there is no room for negotiation.
However, the FTA said it was urging the government to continue pursuing a deal with their EU counterparts as an "urgent priority". This, it said, would make it simpler to trade, ensure trucks and planes from the UK have access to the EU, and minimise economic disruption.
Speaking of economic disruption, many businesses are readjusting staff and productivity levels having furloughed staff in swathes – particularly in manufacturing. They do not know what the shape, size and capabilities of their businesses will be in October, when the furlough scheme ends. So, exporters and importers do not know what types of volumes they will be moving and how to adjust when it comes to custom clearance, delays and tariffs
At the same time logistics will have to adjust to a 'new normal' of customs clearance having just adjusted to the 'new normal' of social distancing measures during the Covid-peak (and putting to one side the threat of a second wave in the winter).
"New normal" actually means "huge levels of uncertainty". Pandemic is one level of uncertainty, but self-induced uncertainty is entirely another thing altogether. It's no wonder the trade bodies are getting tetchy.
Christopher Walton, Editor, Logistics Manager