For many in logistics and supply chain, the coronavirus is a crisis unlike any other. But one warning that continues to ring in my ears is that supply-chain resilience will be at a premium in the coming months.
Logistics Manager was due to host its Supply Chain Conference today and tomorrow but, sadly, the combined pressures on supply chain professionals to manage the impact of the pandemic alongside travel guidance issued by many firms, made such a gathering impossible. We look forward to rearranging the conference for later in the year and learning from the experiences of those at the front-line.
Indeed, today London is much quieter than it usually is, with many paying heed to the government encouraging those who can to work from home. But many businesses do not have such luxuries.
Retailers are, quite literarily in the case of supermarkets and extended night-time delivery slots, working extremely hard to meet the current inflated demand for home delivery of groceries and to keep shelves – depleted by unnecessary panic buying – full.
While one sector pushes at flat-out capacity, manufacturers such as Groupe PSA are closing down production across Europe until 27 March, citing not just the serious health impact of cases near production sites, but also supply disruptions from major suppliers, as well as the sudden decline in the automobile market.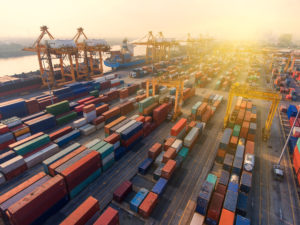 As the world teeters on the brink of a seemingly statistically inevitable recession, concerns in logistics and supply chain will soon shift to survival.
How many supply chain operations in the UK today are run on road haulier third parties, or by those on a global or national basis who subcontract to regional road haulage specialists? That is a market that runs on wafer-thin margins. It doesn't take much for one to fold – I remember as much from the last recession – which sets of a scramble for suppliers to find capacity. There's your supply chain resistance at a premium.
For some this will be termed as a 'right-sizing' of the market – but while the RHA warning refers to those in logistics of a more industrial nature, what of the self-employed gig economy courier that props up the home delivery market? If we think e-commerce has boomed in recent years, what will happen during a recession when people engage in practices such as 'social distancing' and 'self-isolation'? It will be the inverse of what happens to high-street retail after weeks of such measures.
Supply chains and logistics are set to embark upon a profound period of change, where established and trusted models of working are challenged and new normal emerge.
Whatever happens you can rest assured that Logistics Manager will continue to bring you the very best coverage in the industry in this changing world.
Christopher Walton, Editor, Logistics Manager