Here's a number for you: 0.8%. What could it be? The Covid-19 infection rate? Donald Trump's popularity outside of certain parts of the USA? You're in the right country though…. It's the market share of e-commerce in the USA in the first quarter of the year 2000. The very height of the dot-com boom.
Of course, all markets have to start somewhere. There was once a time when cars accounted for 0.8% of all passenger movements – even if nobody had ever thought of such a statistic at the time.
But that is actually not what is interesting about that statistic. Where it comes from is a more interesting question… as is what is happening this time next week.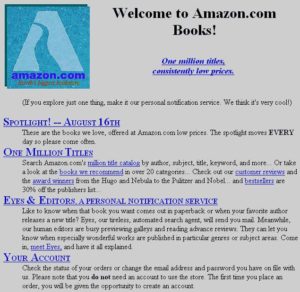 The source of the 0.8% market penetration stat is the US Census Bureau… as is this stat: 11.5%. That's the market share of e-commerce in the USA during the first quarter of 2020.
What we all know is what happened at the very end of that quarter, and how it has shaped our lives during the second quarter and into the third.
So, at 3pm next Tuesday (18 August) the US Census Bureau will release statistics on market penetration of e-commerce in the biggest (or second-biggest depending on who you ask) consumer market in the world.
What is curious is just how far behind the US lags behind the UK when it comes to the market share of e-commerce. According to the ONS, the proportion spent with e-commerce soared to the highest on record in April accounting for 30.7%, which compares with the 19.1% reported in April 2019 (admittedly an apples and pears comparison).
Tomorrow all UK business eyes will be on the GDP figures for the UK in both June and the second quarter of the year. Recession at this point seem obvious, but the shape of the fall and the subsequent rise will be all the more interesting. The day after the ONS will be publishing a report on the economic impact of coronavirus, which should contain some data on the penetration of e-commerce across the quarter.
What we all know is that markets are shifting at different rates throughout the world, and logistics operations are having to react. Take the first half at DHL this year, remarkably up 2% year-on-year, but with the growth concentrated in its express and dedicated e-commerce divisions, while supply chain suffered with volume declines.
In this new economy it will be easy to concentrate on the rise of e-commerce and how it is changing the way goods are moved, sold and consumed.
What we should not forget here is the impact this shift in market share is having on the traditional route to market for consumer goods. Managing the decline of legacy business will be a fundamental challenge as operations change.