Sales at Europa Worldwide Group rose 14 per cent to £96.5 million in 2015, but the company produced an operating loss of £900,000 in 2015, which managing director Andrew Baxter said was due to the recent restructuring programme.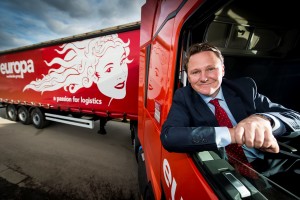 Baxter, who acquired the company in August 2013, said the significant restructuring of the business has put some 'bumps in the road' but the new structure had created a platform for significant improvement in efficiencies, profitability and growth in the coming years.
Europa invested £30m in its 26,368 square metre logistics facility in Dartford in 2015. The rationalisation process involved moving its Erith operation into the new hub and closing its Birmingham hub. Its Minworth branch remains operational.
Restructuring costs in 2015 were £1.6 million, and the total cost of the company's restructuring programme in 2014 and 2015 was £2.5 million.
Baxter expects the company to produce a pre-tax profit of about £1.2 million in the current financial year with turnover rising to about £110 million.
And he forecast that turnover will reach £130 million in 2017 with net profits of approximately £3 million as the benefits of the restructuring and further investment translate into higher sales and profits.
"Overall, the financial picture is a healthy one but, at times, it has been painful. We have not shied away from implementing some major restructuring projects, the last of which was changing our operational IT systems this summer. All of this change has a short term negative impact on the bottom line, but it's a game changer for the business and has created an environment for growth," he said.