The development of a new 92,000 sq ft unit at Burnley Bridge for road haulage company Fagan & Whalley has been completed.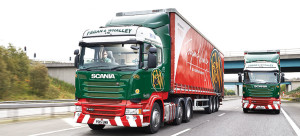 The new building was funded by Yorkshire Bank, and developed by Eshton and GMI Construction.
The 19-metre high development stands on a ten-acre site, has parking space for up to 80 trailers, ten loading bays and 25,000 pallet locations.
The new site will act as a major distribution hub for the business.
"We worked closely with Eshton and GMI Construction to design the building to meet our current and future business needs and are delighted to see our vision has come to life and exceeded our expectations," said Stephen Fagan, commercial director, Fagan & Whalley. "The new distribution hub is located at the heart of our long-standing customer base and just one junction down from our existing operations facility and company headquarters. We're ready to move in and begin our operations from Burnley Bridge."