The February 2018 edition of Logistics Manager is now out in print, online and for iPad and Android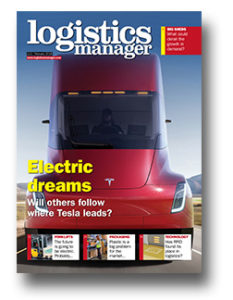 Cover Story: Electric dreams
The commercial vehicle market is facing unparalleled change as diesel starts to give way to gas, electric and hybrid power systems.
Analysis: Managing inventory will be a priority for retailers in 2018
RFID: A silent winner
RFID tagging hasn't created the huge ripple through the supply chain that was expected by many, but it is now finding more and more applications.
Counterbalance trucks: The future is electric
Manufacturers of counterbalance trucks are feeling the pressure from customers to provide more sustainable technology, leading to an increase in the use of electric vehicles.
Packaging: The problem with plastic
As the gravity of plastic waste and its adverse impact on the environment mounts quickly, packaging manufacturers have never been under more pressure to find a solution.
Property: Bigger and better
The growth in demand for warehousing space seems to be going unabated.
FREE 52 PAGE SUPPLEMENT WITH THIS ISSUE
IntraLogisteX Exhibition Preview
More than 130 leading logistics equipment suppliers are exhibiting at IntraLogisteX this year. This major supplement to Logistics Manager gives you the lowdown on where to go and what to see.
Click here to subscribe to the print edition of Logistics Manager