Felixstowe pushes ahead with expansion plan
Transport secretary Chris Grayling has officiated at a ceremony to mark the start of the latest phase of expansion at the Port of Felixstowe.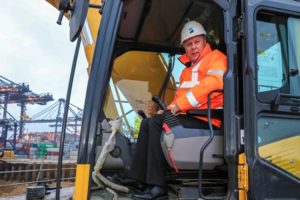 Around 13 hectares of new paved container yard is to be developed behind Berth 9 at the Port. The work will include the reclamation of 3.2 hectares of seabed. The new container yard will comprise ten container storage blocks and allow 6-high stacking, and is scheduled for early 2019. The yard will add 18,000 TEU of storage capacity to the 130,000 TEU already available at the Port.
"This important expansion of Felixstowe continues the port's impressive record of investment to make sure it is well placed to make the most of trading opportunities both now and in the future," said Chris Grayling. "As a great, global trading nation, the UK and its ports are the natural home for international maritime business. It is great to see our largest container port expanding its offering so it can grow and prosper."
Felixstowe chief executive Clemence Cheng said: "Berths 8&9 were the first berths in the UK built to accommodate the latest class of ultra-large container vessels. The creation of additional container storage will allow us to optimise container handling operations between the berth and its supporting yard and further enhance the service we offer to our customers."