SICK, the German technology manufacturer, has developed a protection system to enable unrestricted safe access to fenceless robots that it reckons will make robots and cobots more productive.
The SICK Safe Robotics Area Protection solution integrates a safety laser scanner with a controller to enable dynamic protection of the monitored area. The result is unrestricted access to the robot, for example to allow someone to inspect the operation of the robot or machinery, or to insert or remove work pieces.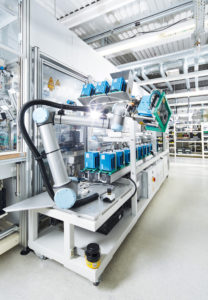 The monitored area has two field sets, each with a non-safe warning field and a safety-rated protective field. The field sets are programmed to be selected dynamically, so that the robot can be slowed to a safe speed as a person enters the warning field and approaches the robot but can still be stopped safely when the protective field is infringed.
Seb Strutt, SICK UK's senior product manager for machinery safety said: "SICK Safe Robotics Area Protection lays the foundations for industrial robots to be more productive. Comprehensively tested as a single-source solution it is ready to use in no time at all. By supplying with factory configured and tested software function blocks, SICK enables the system to be integrated with ease and to fit seamlessly into the controllers of all standard industrial robots."