Ford has unveiled its new Transit Custom one-tonne van which promises improved fuel efficiency as well as a redesigned front end and all new interior.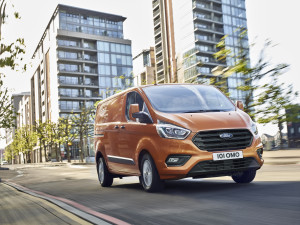 Hans Schep, general manager, commercial vehicles, said: "Transit Custom has been a runaway success since it was introduced, and this new version raises the game once more. We have listened carefully to our customers, and delivered a one-tonne van that is even more stylish, even more productive, and packed with smart features."
The new Transit Custom is powered by the Ford EcoBlue diesel engine, designed, engineered and built at the Dagenham Engine Plant. It was introduced to the range during 2016 with a choice of 105PS, 130PS and 170PS power outputs. Compared to the previous 2.2-litre diesel, fuel-efficiency is up to 13 per cent better and low-end torque enhanced by 20 per cent.
The updated model now offers a new ECOnetic variant, available for the 300 Series short-wheelbase van, which comes with a 105PS engine with a calibration and Auto-Stop-Start, low rolling resistance tyres, Ford's innovative Acceleration Control feature, and a fixed 62 mph speed limiter. The ECOnetic variant delivers 148 g/km CO2 emissions and 49.6 mpg, a further six per cent improvement over the most efficient current vehicle.
The latest specification also includes the six-speed SelectShift automatic transmission.
The new Transit Custom offers and Intelligent Speed Limiter, which enables automatic adjustment of maximum vehicle speed to remain within legal limits, using the Traffic Sign Recognition system to detect speed limit signs.
The new front end design takes its styling cues from Ford's latest passenger cars, with a high-mounted trapezoidal grille and dynamic, slim headlamps. The latest lighting technologies are available, with high series models featuring distinctive new signature LED daytime running lights and powerful HID Xenon headlamps.
The Transit Custom vehicle line-up includes two roof heights, two wheelbase options, a gross vehicle mass range from 2.6 tonnes to 3.4 tonnes offering payloads up to 1,450kg, and body styles including van, kombi and double-cab-in-van.
The cabin interior is completely new, with an instrument panel based on Ford's new interior design philosophy which has been pioneered on the new Fiesta –offering a user-centric layout that is influenced by consumer interactions with smart devices and tablets.
For the driver, all-new displays and control panels have been designed, and high-series models feature a floating, tablet-inspired eight-inch colour touchscreen with Ford's SYNC 3, which will enable Transit Custom drivers to control audio, navigation and connected smartphones using conversational voice commands.
The new Transit Custom will be available to order later this year, and is scheduled for customer delivery in early 2018.
The new van also sets the scene for Ford's next major commercial vehicle innovation, with the introduction of the zero-emission capable Plug-in Hybrid (PHEV) derivative scheduled for 2019. The PHEV Transit Custom will begin trials with fleet customers in London later this year.