Formula 1 has extended its relationship with DHL, which has been its official logistics partner since 2004.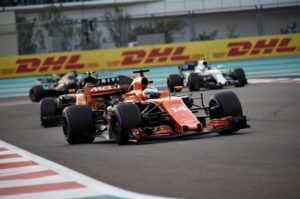 At the same time, the DHL Global Forwarding, Freight division has acquired DOT (Delivered On Time). The UK-based company has more than 80 years of experience as a full-range provider of logistics solutions, specialising in motor sports, TV and broadcasting as well as international events.
"The acquisition of DOT provides growth and produces a series of synergy effects, for example, in our range of services for Formula 1 and Formula E," said Thomas Nieszner, president and global head of motorsport DHL Forwarding, Freight.
Under the new F1 deal, DHL remains the official logistics partner and becomes the first official partner of the F1 eSports Series.
Other joint initiatives are also planned, including fan festivals in core and growth markets of Formula 1, as well as new digital formats.
DHL will continue to present the DHL Fastest Lap Award and the DHL Fastest Pit Stop Award, two prizes for exceptional performances by racing drivers and teams.
Sean Bratches, managing director, commercial operations at Formula 1, said: "Our sport is very fast-moving, where precision and punctuality are ingredients. These attributes are also central to DHL, and this is a guarantee for the on-going success of this relationship."
* Deutsche Post DHL is to build a giant mega parcel centre near Berlin. It has agreed to buy a 165,000 sq m site at Ludwigsfelde. The new centre is due to become operational in 2020.
Jürgen Gerdes, board member for the Post – eCommerce – Parcel division, said: "The new parcel centre that we are now setting up is in a region with particularly strong parcel growth, indeed it represents an essential component of our strategy."