The Fortec Distribution Network has launched CheckIT, an app that enables members to view the live progress of consignments that they have put into the network for other members to deliver.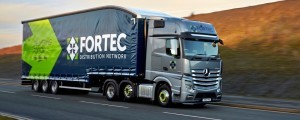 "We've conducted live trials with three members and the feedback is extremely encouraging. It offers complete transparency of the network so there are no surprises for our members' customers," said Chris Dennigan, general manager operations, Fortec.
"CheckIT gives us raw visibility of absolutely everything. We already have MapIT, which allows members to plan out the rounds of the consignments they are delivering for the network.