AAL has delivered four rubber-tyred gantry cranes (RTGs) to Felixstowe enabling to port to add an additional 18,000 teu of container storage capacity.
The ZPMC Chinese-made RTGs were loaded in Shanghai and shipped to Felixstowe aboard the AAL Kobe, for the CPIA forwarding and shipping agency. Each crane measures 32 m x 14 m x 30 m and weighed just under 200 tonnes.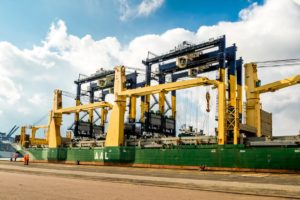 They will serve Berths 8 and 9 at the Port and are capable of stacking containers six-high to enable more efficient use of the new yard.
AAL's commercial director Christophe Grammare said: "Although the UK is a significant container shipping market – Felixstowe being the 6th busiest container port in Europe with about 26 million tons of cargo each year – it is not immediately associated with project heavy lift cargo. The RTGs were shipped there on-deck of the AAL Kobe which, with a highly flexible cargo capacity of almost 40,000 cbm, was also carrying additional project cargo under-deck that was discharged a few days later in Ireland."