Magazino, the German logistics robotics start-up, has raised $24.8 million in new finance to continue its robotics development as well as expand its sales and distribution network both in Germany and internationally.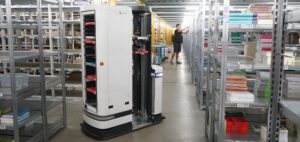 The company develops and builds perception-driven, mobile robots that automate the handling and transport of goods within intralogistics, in a flexible and scalable way.
The start-up's technology enables dynamic warehousing and order picking as well as intelligent material disposition in e-commerce and assembly lines.
Magazino's product portfolio includes a number of robot systems that are used for various operations, depending on the shape, weight and size of objects. The central development is the mobile order picking robot TORU, which enables the picking and handling of individual objects, such as shoe boxes.
Frederik Brantner, co-founder and chief executive said: "With the involvement of leading technology corporations, as well as the largest European players in e-commerce and fulfilment, Magazino is perfectly positioned for continued growth."