Consumer goods importer M H Star has snapped up developer Jaynic's SP206 warehouse at Suffolk Park, Bury St Edmunds, Suffolk.
Moris Ye, assistant manager – UK Operations at M H Star UK, said: "Choosing to purchase this warehouse from Jaynic was an easy and straightforward decision from us at MH Star UK. With our business evolving and growing rapidly, we needed extra distribution space to fulfil our ongoing and future requirements.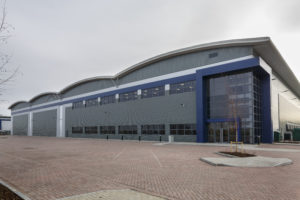 "The Bury St Edmunds warehouse will be the third in our property portfolio.
"We are very happy with the deal made with Jaynic, and are hoping we can continue doing business with each other in the near future as we continue to expand," Ye added.
Ben Oughton, development director of Jaynic, said: "The sale of this warehouse further underpins the park's prime location adjacent to the A14, just a mile from Junction 45, giving M H Star great links into the national motorway network.
"Having successfully completed and found occupiers for our first phase we have now received planning consent for a second phase of four big sheds and will start construction in the near future as there is little supply of new space in the region."
Charles Binks of Knight Frank that acted with Charles Palmer Properties for M H Star, said: "After an extensive search for a unit which we could purchase freehold, together with its proximity to the port of Felixstowe where many of the company's products arrive into the UK, we were delighted to agree terms to buy a unit of the quality offered at Suffolk Park and this will now form a key part of MH Star's UK network and play a significant role in supporting their continued growth "
The consent for the next phase is for four warehouses of 37,000 sq ft, 80,000 sq ft, 100,000 sq ft and 150,000 sq ft, respectively. The 114-acre Suffolk Park already has outline planning consent for 2 million sq ft of business, distribution, and industrial space.
Joint agents are Hazells Chartered Surveyors, Bidwells and Savills.