Amazon has reportedly paid in the region of £65 million for a residential site in Greater London.
The 95,000 sq ft former Pentavia Retail Park in Mill Hill, Barnet had secured planning permission for more than 800 homes last year from London Mayor Sadiq Khan, despite the residential scheme being turned down by Barnet Council.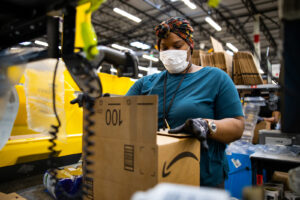 Amazon outbid a number of residential developers for the controversial site and is thought to be carrying out pre-planning negotiations with Barnet Council for the development of a last mile logistics hub.
Learn more on Logistics Manager
Amazon seeks further development at Follingsby Max scheme
Amazon to open delivery station in Cornwall
Amazon linked to Leeds mega shed development
The site was owned by investment and development company Meadow Partners, which acquired it from Henderson Global Investors for £27.8 million in 2013.
The site is located between the A1 and the M1 in Mill Hill, Barnet.
MP for Hendon Matthew Offord said: "The purchase [of Pentavia Retail Park] by Amazon is good news for local people and good news for the local economy."