Container terminal operator Pentalver is being acquired by Genesee & Wyoming, the parent company of Freightliner in the UK.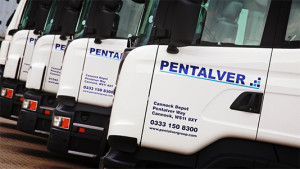 Pentalver, which is part of AP Moller-Maersk's terminals business, operates off-dock terminals at Felixstowe, Southampton, London Gateway and Tilbury, as well as an inland terminal at Cannock.
The company is headquartered in Southampton. In total it has more than 100 acres of land for storage for loaded and empty containers. It also operates a fleet of more than 150 trucks providing daily services between UK seaports.
The business complements the Freightliner business in the UK, which as well as running container trains from the major ports, has a fleet of 250 trucks providing local collection and delivery from its inland terminals. G&W is looking to exploit the synergies between the two businesses to enhance its service offerings and improve asset utilisation.
Jack Hellmann, president and chief executive officer of G&W, said: "With the advent of larger container ships and the growth of distribution centres in the Midlands and throughout the UK, our maritime intermodal customers are seeking greater service optionality, which includes not only rail and road transport but also the ability to store, maintain and position containers. Amid the dramatic changes that are structurally altering the global shipping industry, we are pleased to be enhancing our service capabilities to meet the long term needs of our intermodal customers in the UK."
The deal is expected to be completed in the first quarter of 2017. Pentalver will continue to be run by its current managing director Chris Lawrenson, and will operate as part of G&W's UK / Europe Region. Lawrenson said: "Joining the G&W group is a massive opportunity to enhance the services, capabilities and overall capacity of Pentalver and along with subsidiaries such as Freightliner together we will have the ability to offer great services to all customers in the UK."