Manufacturer of autonomous case-handling robot systems Hai Robotics has launched the latest addition to its product portfolio – the HaiPick A42T-E2. As the world's first telescopic grapple hook autonomous case-handling robot (ACR), the HaiPick A42T-E2 is an integral component of Hai Robotics' new solution – the HaiPick System 3.
The main aim of the HaiPick A42T-E2 ACR is to "increase storage density and warehouse space utilisation". Using a single grappling hook to retrieve totes up to five-deep, each robot can handle 35 to 55 totes per hour and can support picking up to a height of 10m.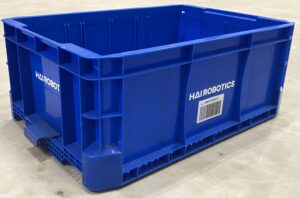 The HaiPick System 3 combines these new case-handling robots with Hai Robotics' K50H fast-transit companion AMRs. Items are stored in totes, up to five deep, on racks. The totes themselves are connected by hooks at the front (see image on the left) which connect to the back of others, leaving 0mm of space in-between totes.
This allows for chain-picking, whereby totes at the front of a chain can be temporarily stored elsewhere on the rack or on one of the ACR's eight storage trays, while the desired tote is moved down to the bottom shelf. From the bottom shelf of the rack, the tote is then picked up by an AMR running underneath the system and transported to a picking station.
Logistics Manager visited Hai Robotics' recently-opened demonstration centre in the Netherlands. Situated within a warehouse operated by a customer of the company, Fox Global Logistics, all three HaiPick systems can be seen, including the new technology announced today. The video below shows how the HaiPick System 3 works, using the new HaiPick A42T-E2 ACR.
Despite being its newest system, Hai Robotics emphasised that the HaiPick System 3 might not always be the most appropriate for customers, as each of its systems are designed to achieve something different.
The HaiPick System 1, which consists of HaiPick ACRs with HaiPort docking stations for the handling of different-sized totes and cartons, is described as the most "flexible" solution. The launch of the HaiPick System 2 saw the company's first introduction of AMR integration. Described as the most "versatile" solution, this system uses Hai Robotics' K600 and K1000 heavy-duty AMRs to handle hanging garments and bulky items, as well as the usual totes and cartons.
The goal with the HaiPick System 3 was to create "the most powerful goods-to-person automation solution", which Hai Robotics believes that it has achieved through the provision of "unparalleled performance and storage density". As previously mentioned, this system not only relies on HaiPick A42T-E2 ACRs, but also K50H fast-transit companion AMRs. These autonomous robots have a linear speed of 4m/s, which Hai Robotics claims is the "fastest in the industry".
Sean Wang, EMEA Sales Director at Hai Robotics, explained: "In my humble opinion, there's always this conflict or compromise between storage density and performance. It is hard to have a system that is high in storage density and also high in performance."
Looking into this problem, Wang said, led to the development of Hai Robotics' new product and solution. He noted that by creating a system whereby only the first tote on a rack is ever retrieved, with the second then becoming the first and so on, increased storage density can be achieved with "a smaller compromise to efficiency".
When asked how the HaiPick System 3 compares to a cubic automated storage and retrieval system (AS/RS), Wang highlighted "flexibility" as a key differentiating factor. He said: "If you need the bottom tote from a cubic system, you need to remove everything on top. However, in this case, if you need the top tote from 10m high, you just need to pick that one – you don't need to remove anything else."
Because of Hai Robotics' ChainPick technology, a maximum of five totes have to be removed from the rack to get to a single tote.
Flexibility and agility has become a key focus within the supply chain in recent years, especially following the disruption caused by factors like the Covid-19 pandemic. "We live in a really unpredictable world," Wang added, "You don't know what the customer will order in the next day."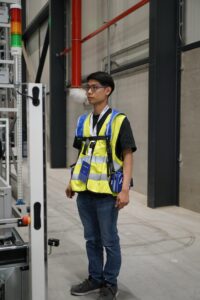 In terms of software, Hai Robotics's HAI Q suite includes an equipment scheduling system (ESS) which can co-ordinate robots, picking stations, conveyors etc, and can be integrated with an existing warehouse management system (WMS). It also has a warehouse execution system (WES), which can be integrated with an enterprise resource planning (ERP) system.
However, perhaps the most interesting part of the HAI Q suite is concerned with the safety of warehouse staff. Workers are equipped with a vest, without which they will be unable to pass through the gates to the area where the robots roam. This vest communicates with robots so any within 8m of a staff member will begin to slow down, stopping at a distance of 2.5m away.
Once the worker has gotten to a safe distance, the robots will continue as before. This technology balances safety and efficiency, limiting the risk of incidents between staff and up to 10m-tall robots potentially carrying heavy totes while only disrupting workflows for short periods of time.
Hai Robotics has locations around the world from Europe to Asia to North America. Its customers operate in a wide range of industries, including the fashion, retail, electronics, pharmaceutical, and third-party logistics (3PL) sectors. For more information on the HaiPick System 3 check out this Corporate Insight on the Logistics Manager website.
Don't forget to book your table for the biggest event in the supply chain calendar: the Supply Chain Excellence Awards! Now in their 27th year, the awards will take place on 9 November at the London Hilton on Park Lane. Click here to find out more about attending or sponsoring!