Government plans to build a third runway at Heathrow have been greeted with relief by the logistics industry.
A draft National Policy Statement will now be put forward for consultation next year. The government said the expansion would attract economic benefits worth up to £61 billion, and 77,000 local jobs.
"The step that government is taking today is truly momentous," said Chris Grayling, transport secretary. "I am proud that after years of discussion and delay this government is taking decisive action to secure the UK's place in the global aviation market – securing jobs and business opportunities for the next decade and beyond."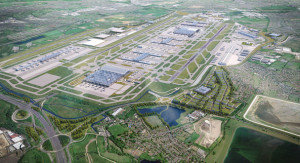 Nevertheless, there will still have to be a public consultation and vote in Parliament before work finally starts. It is hoped that the runway will be in operation by 2025.
The International Air Transport Association welcomed the government decision. "It's the right decision," said Alexandre de Juniac, IATA's director general and CEO. "But it needs to have the right price tag.
"To maximise the potential of the new capacity, Heathrow costs must become even more competitive and cost effective.
"The government desire to keep charges close to current levels cannot be compromised."
The Freight Transport Association has agreed that the decision was the 'right choice'.
"This is excellent news for the freight and logistics industry and the country," said Chris Welsh, director of global and European policy. "This decision is even more vital in a post-Brexit world where Britain's capability to expand its trade and ability to compete in markets outside Europe is heavily dependent on connectivity to emerging markets."
He said that following the referendum vote to leave the European Union, this decision is even more important to the UK's position as a leader in global trading.
Paul Le Blond, chair, aviation policy group, CILT responded to the decision positively but with caution: "The end to uncertainty over airports policy is welcomed by logistics and transport professionals, whichever option they supported, but there can be benefits for all parties, who can now take action to ensure that the decision is implemented in the best possible way for all.
"Logistics and transport operators, from airlines to freight companies, should use the opportunities that this decision will bring to plan long-term investments in more sustainable infrastructure, equipment and working practices, to create a lower carbon footprint and to meet air quality standards."
The Confederation of British Industry expressed relief: "The Prime Minister's green light to expand the UK's aviation capacity comes as an enormous relief to firms in every corner of the country," said president Paul Drechsler. "A new runway at Heathrow is really fantastic news, especially as the country has waited nearly 50 years for this decision.
"It will create the air links that will do so much to drive jobs and unlock growth across the UK, allowing even more of our innovative, ambitious and internationally focused firms, from Bristol to Belfast, to take off and break into new markets."
Property developer SEGRO also agreed that Heathrow was the right choice for the UK's airport expansion.
"This is the right decision, not a moment too soon. As the UK prepares for post-Brexit scenarios, decisive action to increase aviation capacity where it is most needed is all the more critical. Giving Heathrow the green light for a third runway will enable the UK to be more outward-facing and better positioned to compete on the global stage."
A Heathrow spokesperson said: "Expansion of Heathrow is the only option that will connect all the UK to global growth, helping to build a stronger and fairer economy."
Right place, wrong scheme?
One dissenting voice is Heathrow Hub which has proposed extending the existing northern runway as an alternative to the third runway plan.
Captain William 'Jock' Lowe, director of Heathrow Hub, said: "Our economy, our national transport infrastructure and our international connectivity will be much improved by the expansion of Heathrow Airport rather than Gatwick. While we obviously believe that our own concept to extend the northern runway remains vastly superior to Heathrow Airport Ltd's third runway option, we congratulate John Holland-Kaye and his team.
"We are relieved that the government has made the correct decision in terms of location. Heathrow is where the airlines want to be; it's where the demand is."