Heathrow Airport has ordered a fleet of trailers from Cartwright to be used by the Heathrow Consolidation Centre which manages retail deliveries across the airport.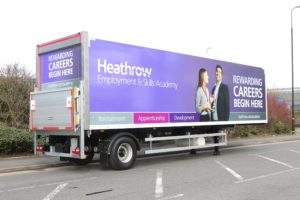 It required a range of products to meet its diverse specification requirements as well as to provide manoeuvrability in operation with the facility of a rear steer. There are three main specifications:
– 13.6 metre straight frame tandem axle semi-trailer box vans with 26 pallet specification
– 10.6 metres urban single axle frame single axle trailers with a tail-lift
– 10.6 metre straight frame single axle semi-trailer refrigerated box vans with rear command steer.
Rachel Martin, senior account manager- retail logistics for commercial at Heathrow said: "Heathrow spends over £1.5 billion annually with over 1,200 suppliers from around the UK – and we are proud to partner with such a well-established business on our latest fleet upgrade."