House of Fraser's distribution centre at Milton Keynes is due close on 27th November, according to the GMB union.
The future of the Wellingborough site is still unclear, although there has been speculation that operations will continue there until at least March of next year.
Insiders report that work restarted at both Milton Keynes and Wellingborough DCs on Wednesday, although there has been no official announcement from either Sports Direct which now owns the business, or XPO, which operates the sites.
However, the GMB said yesterday (6th September) that it had been informed of the closure of Milton Keynes with the loss of 300 jobs on Thursday.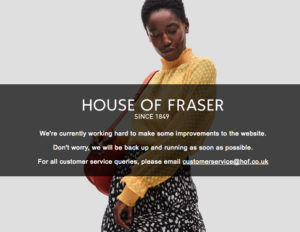 The House of Fraser web site remained suspended on Friday, but is expected to re-open for online sales in the next few days.
XPO suspended operations at the Wellingborough and Milton Keynes sites after House of Fraser went into administration on 10th August. According to the administrators, EY, XPO was owned more than £30 million by House of Fraser.
Since then there have been negotiations between XPO and Sports Direct, but on 17th August the GMB said 627 employees at the two sites had been put on a 45 day consultation.
The two sites re-opened briefly on 24th August to resupply some HoF stores that were running low. Sources close to Sports Direct said at the time that there had been a "very positive" dialogue with XPO, although they had not reached any final position.
SEE ALSO:
House of Fraser went into administration owing XPO Logistics £30m