Working with the likes of Amazon, XPO Logistics and Ocado, Zeelo is helping businesses cope with the peak demand leading up to Christmas and…….
Zeelo, the smart bus company, has launched a flexible peak service to help distribution centres, warehouses and logistics parks deal with the upcoming peak period. The service will include flexible contract arrangements, massive fleet scale, smart routing, and daily reporting on rider numbers.
During this turbulent year the logistics and supply chain industry has seen unprecedented changes in demand and with Christmas just around the corner experts are expecting it to be the biggest e-commerce period in its history.
The peaks require temporary increases in staff and extended shift times in order to match the demand. Many businesses will likely increase capacity to a 24-hour operation in order to manage the demand thus creating a number of logistics and transportation complications.
Zeelo has been working with the likes of Amazon, XPO Logistics, Henkel and Ocado. They have provided both consistent daily services as well as flexible short-term services to ensure that all employees have easy access to transportation that has the highest COVID-19 measures in place including contact tracing.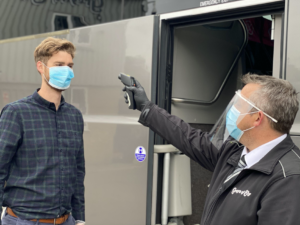 XPO's Director, Martin Coughlin said, "Our distribution centres remain open 24hrs so our dedication during these uniquely challenging times has been to review and do everything we can to keep our employees, their families and loved ones –safe. Zeelo's service has been crucial in minimising the risk raised and posed by colleagues regarding initial concerns to public transport usage whilst the UK was adapting to the new normal. Zeelo's management of this service has been second to none and has been key to colleague engagement."
Barney Williams the Co-Founder of Zeelo added, "There is no need to get locked into long term expensive contracts. Our team is able to launch a new service in 24hrs. Our service allows businesses to attract new employee pools to fill demand, add flexibility to their employee's transport options and allow us to help you manage your peak periods as efficiently and safely as possible in these unprecedented times."
With demand peaks just around the corner, it stands to reason that businesses could greatly benefit from the service. Along with the technology, Zeelo's service also comes fully equipped with the highest COVID-19 safety standards, including contract tracing, and capacity management.
If you would like to find out more about Zeelo you can contact Barney the Co-Founder on [email protected] or visit the website here.