HSS, the equipment hire group, has extended the implementation period for its new National Distribution and Engineering Centre into 2017.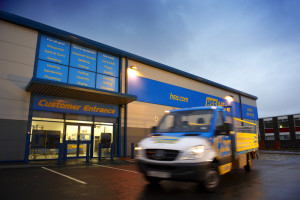 All branches in England and Wales are now being serviced from the NDEC. Locations in Scotland will be rolled in to NDEC during the first quarter of next year.
It had originally planned to complete the roll-out by the end of the 2016 financial year.
But, in a trading update for the first nine months, the company said: "Given the scale, complexity and investment in the operational change being rolled out across the Group, we have taken the decision to extend the implementation period through to Q1 2017.
"This will impact on our core Rental and related revenue growth, and reduce the speed at which we can optimise our remaining network and reduce operating costs. As a result Q4 trading will be at the lower end of management's expectations."
The new 190,000 sq ft facility in Cowley is being managed day to day by Unipart in partnership with HSS. Transport activity is outsourced to XPO Logistics.
The site is designed to centralise the majority of engineering activity to drive operating and capital efficiencies, and separate branch fulfilment from customer delivery and collection.
The development of the NDEC represents a move from a decentralised multi-site hire depot model in 2007, though a semi-consolidated hub and spoke model since 2011, to a centralised system for the future.
John Gill, chief executive officer of HSS, said: "We made further progress with our strategy in the period, particularly with the growth in our market share and the implementation of the NDEC.
"Our investment through FY16 has laid the foundations for us to improve our customer experience and service proposition and deliver capital and operational efficiency."
"Given the scale and complexity of this transformational operational change within the Group, we have taken the decision to extend the implementation into Q1 17. While we are seeing some impact on performance in FY16, the board remains confident that the initiatives being pursued will position the business to drive improved shareholder returns in what remains a competitive and fragmented marketplace."
"Looking ahead to 2017 we will continue the optimisation of our network across both distribution centres and local branches to deliver the benefits of our new operating platform, delivering an enhanced customer proposition, with a primary focus to drive EBITA margin growth."