Last week I was lucky enough to visit DHL's Innovation Centre near Bonn in Germany (it's one if three sites it has globally, the other two being Chicago and Singapore). If you're in any way remotely interested in logistics, then you could have a very pleasurable afternoon looking at what the future may hold.
Some may be alienated by the thought of showcasing what logistics will look like in 2050. All these esoteric ideas about a digitised supply chain and drone deliveries may seem like escapist fantasy to those more concerned with day-to-day inventory levels or racking systems, but then it occurred to me that 2050 is 'only' 30 years away, and if you go back 30 years the Berlin Wall fell down and I remember watching it on the news… in a world of short-term strategies, long-term thinking has a value.
It's very easy to geek-out at technology such as the 'Follow Me' robot – essentially a six-wheeled picking bin that follows the user around the warehouse – because it is just fantastic. Or its use of Google Glass – which aids the warehouse employee in a picking task – which is being used in a live environment in its cavernous Beringe warehouse in The Netherlands for a digital camera client. And who doesn't want to buy into its Mission 2050 – its target to reduce all transport-related emissions to zero?
Far from showing off, the Innovation Centre has a purpose: to showcase the various technologies and innovations DHL uses. It's a fascinating strategy.
DHL is constantly researching the market, from tech start-ups to major technology suppliers, that could potentially transform its business. It has broken the market down into a huge number of areas:  digital freight shipping, sensors and asset tagging, inventory management, blockchain, food supply chain, logistics analytics, trucking and fleet management, warehousing, enterprise resource planning, e-commerce logistics, autonomous trucking, last-mile AVs and drones and last mile delivery services.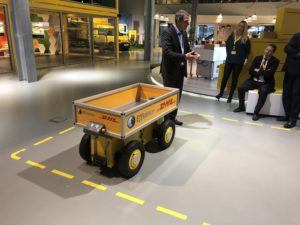 It then identifies which technologies are close to widespread adoption throughout its business – so the likes of low-cost sensors, big data analytics, omni-channel logistics are happening now; internet of things, cloud logistics and robotics and automation will all be relevant in less than five years, while digital twins, blockchain and 3D printing will be relevant come 2025 and beyond.
DHL then identifies which start-ups they want to work with, run a trial and, if successful, roll out across all of the relevant locations throughout the world.
A guided tour for the European press was conducted by DHL's vice president for innovation and trend research, Markus Kückelhaus, describes the centre as an "open innovation space" that doesn't just reflect the changes it has made as a business, but the changes the sector is going through as a whole.
"We don't need to invent all the technologies themselves. We do it with our customers and our partners. Yes, we like to work with the big tech companies but also with many start-ups to see what solutions are out in the market. They may be used in other industries. And we see how they can be applied to our industry and how we can be the first mover in applying these technologies in our industry," he said.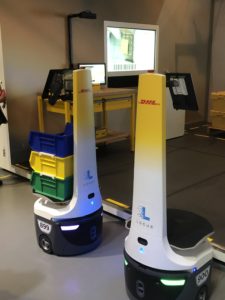 3PLs are under pressure. There's a labour shortage behind the wheel and inside the shed; there's ever-increasing property costs and heaps of old buildings in 3PL property portfolios that require modernisation; there's pressure from customers to do more with less and drive costs out of their supply chains, and there is a fair amount of customer churn…
In selling itself as a service provider of technologies DHL is positioning itself as ahead of the new wave of logistics. Like IBM, when it moved from hole-punch card machines into mainframes and later was overtaken by start-ups hungry for our data (like Alphabet), as the largest 3PL in the world DHL cannot tell its shareholders that it was caught and overtaken by those riding the crest of the digitisation and automation wave. My suspicion is that it won't, but those without its deep pockets and innovation centres are vulnerable – unless they act now and engage with suppliers in the market.
By Christopher Walton, Editor, Logistics Manager