IntraLogisteX got off to a flying start on Tuesday as buyers flocked to the Ricoh Arena right from the opening.
Exhibitors were clearly delighted with the event. "Excellent show so far," tweeted Gideon Hillman, while 51T said: "Having a great day so far."
Craemer said: "Looks like it's shaping up to be an even better show than last year."
The exhibition, which continues at the Ricoh Arena in Coventry today (Wednesday 28th February), was opened by The Lord Mayor of Coventry, Tony Skipper.
More than 130 leading logistics equipment suppliers are exhibiting at the exhibition.
The latest technological developments were well to the fore. Robotics has become a hot topic in logistics and a number of exhibitors, such as CKF and Robotics & Drives, were showing robotic systems. As costs become more competitive, the return on investment case is becoming increasingly compelling.
Apex Supply Chain Technologies displayed its check in, check out automated dispensing system for scanners, tablets and mobiles at the IntraLogisteX Exhibition. According to the business, one of its big retail customers lost £130,000 a year on missing scanners before deploying Apex's system. Fobs or ID cards are used by employees to open lockers with charging abilities where devices are stored – the technology enables supervisors to access a wide range of tracking information, including flagging up damage, and how long an employee has had the device.
Neopost was using virtual reality to highlight the most innovative solutions in packaging and fulfilment.
And Renovotec used the exhibition to launch a specialist managed print service (MPS) for rugged hardware, supply chain environments, to include cloud, rental and fully outsourced options.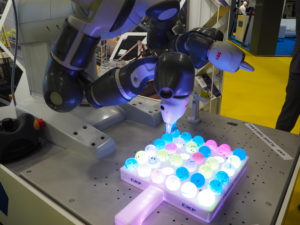 The seminars from a number of industry leaders has been attracting strong interest. Peter Ward of UKWA tackled the thorny topic of Brexit suggesting that any supply chain interruption could be mitigated by additional stock in the supply chain, ie, more warehousing.
During his afternoon seminar session Chris Sturman, chief executive of the Food Storage & Distribution Federation, launched its 'national food guide'. The guide, created with the support of Tesco, Sainsbury's, The Cooperative, Aldi, and Oakland International, hopes to provide a comprehensive framework for the food supply chain, dealing with a range of issues including illegal immigrants traveling in vans carrying food products, and food fraud.
Reactions on social media:
https://twitter.com/NeopostShipping/status/968420694894809088
Having a great day so far @IntraLogisteX #ILX18 pic.twitter.com/pqI8VW2gLR

— 51T Enterprise Solutions (@Official51T) February 27, 2018
https://twitter.com/gidhillman/status/968449640260624384
Great to see Andrew Southgate filling out another @IntraLogisteX Seminar! Everyone wants to reduce their DC travel time and increase productivity. Come and see us on Stand 172 #ILX18 #WorkSmarter pic.twitter.com/R9ZSTTOGpw

— Lucas Systems EMEA (@Lucas_EMEA) February 27, 2018
Not even 10am and everybody busy! @_luxonic @IntraLogisteX #ILX18 pic.twitter.com/MonduqBPim

— Exhibition Magic (@exhibitionmagic) February 27, 2018
Day one @IntraLogisteX has not long started and it looks like it's shaping up to be an even better show than last year 👍🏻 We're on stand 184 #ILX18 pic.twitter.com/cgXetFLtRc

— Craemer UK (@CraemerUK) February 27, 2018
So far, a great morning at #ILX18 – lots of great feedback on our technologies and services! pic.twitter.com/M59K0FPfxA

— WCS (@wwchainstores) February 27, 2018
IntraLogisteX continues on Wednesday at the Ricoh Arena in Coventry.
Click here to access Logistics Manager's IntraLogisteX exhibition Preview.