Chinese retail giant JD.com, which is targeting the UK in its future growth plans, has raised $2.5 billion to finance the expansion of its logistics subsidiary, JD Logistics.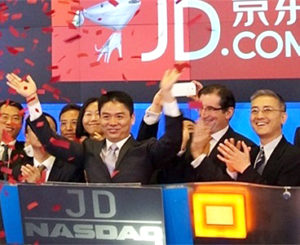 Richard Liu, chairman and chief executive of JD.com, said: "Our decision early on to build out our own logistics network has paved the way for JD Logistics to become the industry leader it is today. The shift throughout global e-commerce towards our model is vindication of the path we chose. This current funding round sets the stage for us to further invest in expanding our lead in the sector in areas like automation, drones and robotics. JD Logistics will continue to support both JD.com's e-commerce business and the logistical needs for a wide range of industries for years to come."
The deal, involving a consortium of banks, will leave JD.com with an 81.4 per cent stake in JD Logistics.
JD.com is reportedly planning to take on Amazon in the UK, France and Germany with a €1 billion investment in its logistics network over the next two years. Following Theresa May's visit to China in January the "Financial Times" reported that JD.com is to open an office in London in April, as well as opening an AI research centre in Cambridge in 2019.
JD.com reckons it currently has the largest fulfilment infrastructure of any e-commerce organisation in China. It operates seven fulfilment centres and 405 warehouses covering 2,830 counties and districts across China, staffed by its own employees.
Zhenhui Wang, chief executive of JD Logistics, said: "This financing will enable JD Logistics to further enhance its smart supply chain network with openness and integration. It is a major step, which will speed up our collaborative efforts with leading industry partners and build China's next-generation commercial infrastructure ecosystem."