Wholesaler JJ Food Service has started selling graphic space on the rear doors of its trucks to some of its largest suppliers, including a number of popular global drinks brands.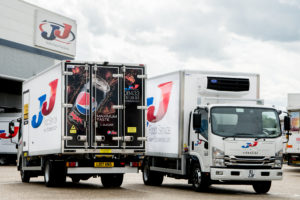 The advertising was added during the vehicles' livery refresh by graphics specialists RGVA. So far, 29 vehicles have had the advertising added.
The vehicles primarily operate in central London from the company's Enfield base.
Omar El-Haj, marketing manager at JJ Food Service, said: "Each of the trucks are in the city for between six and seven hours a day, five days a week, covering around 50 miles a day. The number of people who see them is phenomenal, so the return on investment speaks for itself – the cost of a static billboard that offers similar numbers would be huge."
The company plans to re-brand more of its trucks with new liveries in 2018.