John Lewis has invested £150million in a new customer-centric distribution centre at Magna Park, Milton Keynes. The centre is designed to achieve faster replenishment for branches and customer deliveries.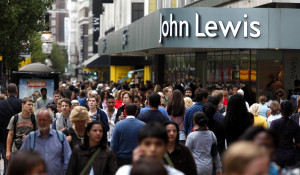 According to the retailer, the new centre consolidates fashion and non-fashion items and will see '850,000 fewer parcels delivered each year', with '190,000 less miles' covered by delivery vehicles. The new site has created 500 jobs (doubling during peak times).
The centre is part of a £250million investment in the retailer's distribution sites, and a larger five-year plan worth £500million.
"These new state-of-the-art-facilities are the latest piece in the John Lewis distribution jigsaw," said Dino Rocos, operations director, John Lewis. "Our customers expect John Lewis customer experience, not just in our shops, but at every stage of their purchase.
"This service-led distribution centre will ensure our Partners deliver the John Lewis magic direct to our customers' homes.
"Not only will this also help customers receive their orders quicker and in fewer parcels, but fewer driving miles and less packaging will help reduce our operational emissions and waste.
"Our distribution operations are at the heart of our business and these advanced facilities enable us to adapt to the ever-evolving retail market. Customers want quick and convenient deliveries and fast replenishment of our shops, this investment puts us in a strong position for the years to come."
The opening follows John Lewis' £100million investment at its existing Milton Keynes site. The retailer's Magna Park campus is 2.4million sq ft in total.
---
Combining online orders
John Lewis' new customer-centric site will combine both online orders for hanging and flat fashion, as well as non-fashion items into one parcel.
The retailer has a six level automated hanging system which is able to sort and carry 1.6million garments at a time. The retailer has said that the system will 'be responsible for the fulfillment of circa 225,000 different products.'