The second set of 15 of companies in Logistics Manager's Top 50 were revealed in an exclusive webinar streamed this morning at 10:30am, a one-hour session that also included a fascinating interview with Descartes' Pol Sweeney, Vice President of Sales, EMEA Fleet Solutions.
Descartes is a leader in providing Software-as-a-Service solutions for logistics-intensive businesses that drive supply chain operational efficiency and regulatory compliance. Solutions include Descartes' e-customs and route optimisation software. Both of these have been in heavy demand with the increase in e-commerce and home delivery and as supply chains adapt to post-Brexit trade with the EU and moving goods between Northern Ireland and GB.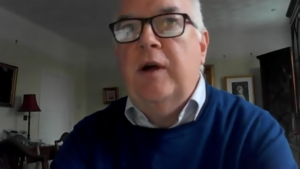 Sweeney (pictured left) is a specialist in the solutions and technology that automate and create value for today's global supply chains. With more than 15 years of experience in helping businesses transform their operations with technology, he has previously held roles as a Chief Technology Officer for logistics software businesses and has worked both in the UK and USA.
Sweeney discussed a range of topics including Brexit, the pandemic, supply chain disruption, the evolution and future of route optimisation software, and how Descartes has been helping companies navigate the choppy waters of 2020 and 2021 with its SaaS solutions. He also provided an update on the company's collaboration with Halfords' spin-off Avayler, which was featured in a Logistics Manager webinar earlier in the year.
The countdown concludes on Wednesday morning at 10:30am (8th December) with the final set of 20 companies being announced, alongside exclusive interviews with Andy Newberry and Alex Tatham from Westcoast and Tony Mannix from Clipper Logistics.
You can still register for the Top 50 Logistics Service Providers by clicking the link below and not only watch live but catch-up with what you might have missed on-demand over the course of the past two days.
Who will it be 2021's fastest-growing logistics service provider? You'll have to join to find out.
Click here to register for the event – watch Day 3 live or catch-up with Day 1 and 2 on-demand