Jungheinrich unveiled its first internally developed high-performance miniload, the STC 2B1A, at Logimat last week.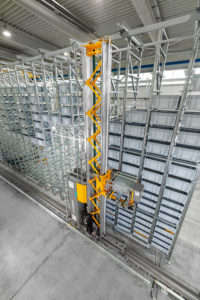 The STC 2B1A has a travel speed of more than 6 metres per second. It also has energy buffers specially adapted to handling called "SuperCaps". They store energy released during braking processes and feed it back into the drive system during acceleration. This can reduce energy consumption by up to 25 per cent.
Three new patents have been implemented in the new miniload: a new mast design for top scalability of the equipment up to 25 metres and maximum stability despite lightweight construction; a travel rail concept for minimised approach dimensions; and an integrated Omega drive system for more space-saving storage.
Jungheinrich says these features increase space utilisation, higher storage capacity and higher throughput for a warehouse of comparable size.
The new modular mast design allows for flexible scalability up to 25 metres.
"No other rack operating equipment in its class comes close to the throughput performance of the STC 2B1A. Thus we have created an unparalleled intelligent and economical logistics solution for our customers that contributes significantly to lowering operating costs," said Dr Klaus-Dieter Rosenbach, board member for logistics systems at Jungheinrich.