KUKA is to exhibit at the upcoming Robotics & Automation exhibition at Arena MK on 11th and 12th October this year.
KUKA's solutions are custom built and fully integrated into manufacturing applications from single units to large multiple robot turnkey solutions. The business delivers solutions from industrial work alone units to collaborative robots.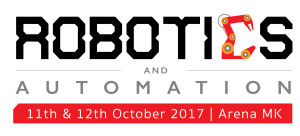 At the Robotics & Automation exhibition, KUKA will be at stand 216 demonstrating how collaborative and mobile robotics can provide clear and sustainable benefits by optimising the manufacturing process.
With developments in 3Dp, vision guided robotics and mobile robotics KUKA have had an exciting year. KUKA looks forward to welcoming guests to its stand at Arena MK and discussing how automated robotics can enhance operational performance.
The Robotics and Automation exhibition will be held on 11th and 12th October 2017, at the Arena MK.