Levi jeans are going to laser finished in the future, using a new process that will eliminate thousands of chemical formulations from the supply chain.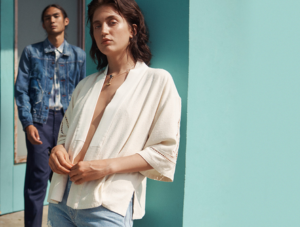 The plan is part of Project FLX (future-led execution) a new operating model that the company says will usher denim finishing into the digital era. It digitises denim finish design and enables a responsive and sustainable supply chain at an unparalleled scale.
"With this new model, we can deliver the authentic and iconic products we're known for in an incredibly responsive and responsible way," said Liz O'Neill, senior vice president and chief supply chain officer for Levi Strauss & Co. "The advanced imaging capability is a game-changer for us, and something that has eluded our industry for years."
For more than 30 years, the apparel industry has used hand-finishing to accentuate worn, faded design elements on denim. By using lasers in new ways, finishing time is cut dramatically – from two to three pairs per hour to 90 seconds per garment, followed by a final wash cycle, the company said.
The new imaging tool built by Levi Strauss cuts finishing design and development time in half (from months to weeks and sometimes days) and is so accurate the digital files can be sent directly to the vendor and quickly scaled to mass manufacturing.
And by delaying decisions on final products until much later in the process, the company expects to reduce its lead times from more than six months to as fast as weeks or days in some cases. "This is made possible by staging garments that await their on-demand finish order closer to the market."
Levi Strauss plans to reduce the total number of chemical formulations used in its finishing process from thousands to a few dozen as part of its commitment to achieving zero discharge of hazardous chemicals by 2020.