Linde Material Handling, has unveiled a new range of order pickers comprising eight new models of its N20C low-level picker ranging from 1.2 to 2.5 tons.
The trucks have been designed with operators in mind as Linde has adopted the standard market design which means operators can easily transition between trucks from different manufacturers.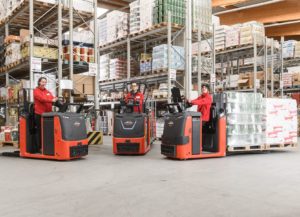 Product manager Gavin McLeod said: "At Linde, we've seen demand for order pickers growing steadily during recent years to accommodate shorter delivery times and seasonal peaks. This has led us to create this new range of trucks specifically designed to make picking more efficient and safer for warehouse workers."
The truck, can reach speeds of 14 km/h, and have ergonomically positioned handles, pneumatically damped stand-on platform to reduce impact, and height-adjustable steering wheel with easy-grip controls, and Linde BlueSpot system.
Linde's 'Connect:' system to monitor fleet status and analytics can also be retrofitted to this range.