With the government pushing for a net-zero carbon future could rail, air and port related warehousing schemes be the answer? Liza Helps reports.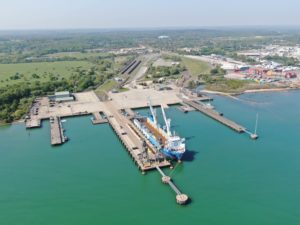 On 27 June 2019 the UK became the first major economy in the world to legislate to end its contribution to global warming by 2050, and it turned its gaze firmly on the logistics industry to do its bit. Indeed, it seeks a 15% reduction of HGV greenhouse gas emissions by 2025. 
Government statistics note that HGVs are estimated to account for around 17% of UK greenhouse gas emissions from road transport and around 21% of road transport NOₓ emissions, while making up just 5% of vehicle miles. 
Luckily the industry saw the writing on the wall and has been actively pursuing ways and means to reduce its carbon impact. The Freight Transport Association in its 2019 Logistics Emissions Review – which includes the latest results of the Logistics Emissions Reduction Scheme (LERS) – noted that during 2019, LERS members achieved a 4% reduction in greenhouse gas emissions and decreased their average kg of carbon dioxide equivalent (CO2e) per vehicle km to 0.72, from 0.75 in 2017 and 2016. 
The FTA says: "Achieving the ambitious 15% reduction target will remain a challenge for industry in the short term despite members' continued efforts to ensure they are operating the cleanest vehicles available." 
It is not surprising then that the industry is looking to alternative transport modes, especially rail, (one freight train can remove 76 HGVs from the roads at a time) but that brings with it issues around the building and location of strategic rail freight interchanges and the development of associated warehousing to maximise efficiencies to help move towards decarbonising the supply chain and reducing costs. 
Phil Oakley, vice-president, market officer, at Prologis says: "A focus on environmental sustainability is causing more companies to address the problem of air pollution within their supply chains." 
In addition, the demand for warehousing has increased exponentially due to the change from high street to online shopping bringing with it far greater need for warehousing space and even more urgency to secure the right locations in order to meet net zero ambitions. 
According to a new report Delivering the Goods in 2020 by the British Property Federation in conjunction with logistics property developer Tritax Symmetry and planning consultancy Turley's, an additional 21 million sq ft of warehouse space is required each year to meet demand. 
Low carbon economy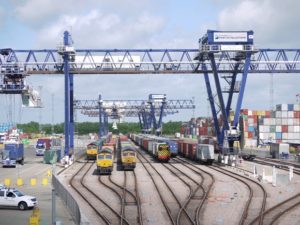 Alex Reynolds, development director at Tritax Symmetry, says: "Companies are increasingly seeking sites and premises with sustainability credentials and there is growing interest in alternative transport modes among logistic providers. 
"Developers [and occupiers] are looking at sites on a low carbon economy basis – rail freight sites align with government policy and occupier need. If those sites can be at the very least bi-modal and even tri-modal all the better," he says. "The best locations will see goods being able to be moved from deep sea ports to the customer and with more and more e–commerce companies looking strategically the demand for sites in locations that can provide this will only get stronger." 
Tritax Symmetry is promoting its Hinckley National Rail Freight Interchange in Leicestershire, which links into the Nuneaton to Felixstowe rail freight route. The 560-acre site could accommodate up to 9 million sq ft of associated warehouse space (some of it mezzanine). It is located close to Junction 2 of the M69 connecting the M6 near Coventry and the M1 near Leicester. 
The company is actively seeking a terminal operator for the scheme, which is considered a Nationally Significant Infrastructure Project and whether it goes ahead or not will be judged by the Secretary of State planning inspectorate rather than going through the normal planning process. 
The Midlands is a hotspot for SRFIs. The scheme is one of five strategic rail freight interchanges being proposed with a combined associated warehouse development of some 39 million sq ft in addition to the ones already there which include East Midlands Gateway and DIRFT (adding a further 15 million sq ft of associated warehouse space). 
Recently, developer Roxhill secured approval from the Secretary of State for its 5 million sq ft strategic rail freight terminal in Northamptonshire, while Prologis is going ahead with the third phase of the DIRFT, which will see the development of a rail freight interchange as well as about 7 million sq ft of additional warehousing. 
Other schemes in the Midlands being promoted include Goodman's East Midlands Intermodal Park in South Derbyshire, which could bring 6 million sq ft of associated warehousing across a 630-acre site. 
Then there is an adjacent 600-acre site to Roxhill's Northampton Gateway SRFI being brought forward by Gazeley teaming up with Ashfield Land to promote Rail Central in Northamptonshire, two miles from Junction 15A of the M1 motorway. The scheme is looking to provide 7.4 million sq ft of associated warehousing space. 
Far in the north west of the region in South Staffordshire, Four Ashes is championing the 733-acre West Midlands Interchange, with up to 8 million sq ft of associated warehousing. 
Diversification of in-bound goods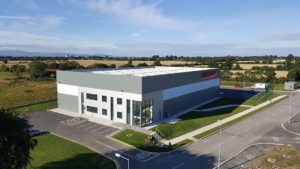 Oakley at Prologis says: "For many years, rail freight was associated with the movement of heavy, dirty substances such as coal and aggregates; however, the declining use of coal has opened-up new opportunities for intermodal transport and many large supermarkets, including Tesco and Sainsburys now use rail freight to enable fast delivery of stock to their network of UK distribution centres." 
It is not just SRFIs in the Midlands where e-commerce companies are looking to locate. There has been great interest in port centric locations as well. On-line furniture company Made.com, which signed a lease for 165,000 sq ft of distribution space last year at the DP World's London Gateway Logistics Park in Stanford-le-Hope, Essex, has already operated its notice on the shared user space and has secured a pre-let for a 289,000 sq ft build-to-suit warehouse at London Gateway which will be ready in June 2021. 
Bonnie Minshull. director, industrial and logistics at Savills, says: "Brexit and discussions regarding the establishment of freeports in the UK have woken a lot of people to the whole idea of diversification of in-bound goods especially where there are good onward rail connections and feeder services to other ports." 
Chris Yates, director at Cushman & Wakefield, says: "Port operators such as Associated British Ports which has some 2,372 acres of development land across 21 ports in the UK, is actively promoting space to non-port related users. 
"Ports are very well located, often in close proximity to major conurbations / edge of town locations where occupier demand is most heavily focused, or offering locations within Enterprise Zones (bringing their own incentive); they offer the benefit of road, rail and sea connectivity, which is of particular importance where road congestion (and with this, environmental footprint) considerations are becoming ever more prevalent." 
Recently ABP signed a 20-year lease for 200,000 sq ft of space with Southampton-based port centric logistics company Import Services and Xpediator subsidiary, at Southampton's Container Port. 
Development of the new distribution centre has started and is expected to complete in the first quarter of 2021.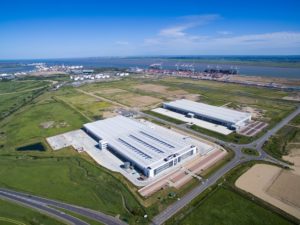 The new warehouse site is designed to connect with Import Services' existing quayside distribution centre, doubling Import Services' operational capacity. Together, the enlarged facilities will enable Import Services to hold stock under bond for order processing and distribution across the UK, continental Europe and global markets. 
Stephen Blyth, chief executive of Xpediator, said: "Import Services' new distribution centre will be just 100 meters away from where the deep sea container ships dock and with this new facility, our teams will be able to discharge containers efficiently, process orders and deliver straight to the point of demand." 
"Historically, Import Services has not always had the capacity to meet demand, this new facility will not only enable us to meet demand but also capture additional market share by being able to offer superior services. The timing of this expansion could also work favourably with the UK's move outside of the European Union." 
Similar thinking saw CEVA Logistics taking a 107,639 sq ft build-to-suit chilled and ambient warehouse at London Gateway 
The Chill Hub is a state-of-the-art operation strategically located to provide maximum customer benefit through its ability to manage a full range of value-added services including labelling, boxing, re-palletising, price coding, tagging and kitting at one site. 
One of the reasons for locating to the site was because it offered the additional benefit of a deep-sea port on the same site as the logistics park where the hub is located. London Gateway has links to over 110 ports in 60 different countries and its dockside proximity to the warehouse means shunting can take as little as two hours.