If the conventional wisdom is correct, then approximately a third of all forklifts are powered by batteries (with a third powered by diesel and a third by gas). So for one in three forklifts, the choice of the type of battery is crucial in maximising the efficiency of materials handling equipment and warehouse workflows.
Within those charging batteries, there are fundamentally two choices. Lithium-ion and lead acid. When lithium-ion came along it was supposed to change the landscape. Lithium batteries are quicker to charge and do not have to rely on watering, cleaning and equalising which is required by other types of forklift batteries.
But should battery users be caught in an either/ or battle? Phil Ireland, programme leader, 20/20 platform at Hyster Europe, says that electric lift trucks with lead acid batteries are still often considered the best option for many operations, because they benefit from efficiency and performance comparable to LPG/diesel alternatives and a potentially lower cost of ownership.
"That said, with good availability and accessible prices, it is expected that more applications will start to adopt lithium-ion power options," he says. "It is likely to be particularly appealing for new sites, as you don't need to build a dedicated charging room, so can make significant space savings.
"However, there are infrastructure considerations which will turn some businesses off. For example, older sites may need wiring changes to accommodate the power needs and charging locations.  Draw on the electric supply is another consideration. Lead acid batteries charge slowly over a long period while lithium-ion options charge quickly and need more power. Infrastructure needs to accommodate these requirements. It depends on the specific requirements of the individual operation."
David Bowen, product manager at Linde Materials Handing, says there are a lot of benefits to lithium ion batteries, but they aren't suitable for everyone.
"The reliance on 'opportunity charging' in shorter, more frequent bursts means that trucks need to be taking regular breaks throughout a shift to be at their most effective," he says.
"If your warehouse relies on trucks running solidly for a 10-hour shift without any charging breaks, lead acid batteries will generally be a better fit for you although detailed study of most applications shows that there are gaps in an operator's use of a truck that can be used for opportunity charging of li-ion batteries without affecting productivity.
"Similarly, if you work at a small industrial unit with one or two forklifts for light daily applications, we wouldn't immediately recommend switching to lithium ion batteries because, although your mains energy consumption will reduce, it would be offset by the higher initial price of lithium-ion batteries and, overall, might not be cost effective for you," he says.
Martin McVicar, chief executive and co-founder of Combilift believe that lead acid batteries will have a future as long as there is no effective way to recycle lithium-ion batteries.
"Just a tiny proportion of lithium-ion batteries can be currently recycled compared to lead-acid ones. It is important to remember that whilst there has been progression around battery technology – the fundamental underpinning principle of how a lead-acid battery functions has remained unchanged for decades. The potential vast stockpile of used lithium-ion batteries will need an environmentally sustainable solution."
Cost Considerations
McVicar also says that cost is also a major factor and until lithium-ion becomes more affordable, many companies will prefer to stick with lead-acid batteries. This, he says, is because the majority of forklifts in the UK are acquired on a contract hire basis and the time it takes to get a Return on Investment on lithium-ion technology – which can often be longer than a typical hire agreement – renders the technology unavailable, particularly for smaller companies.
It isn't so much about which battery is best for which task, but more about which battery is best suited to the application, says Linde's Bowen.
"For most individual tasks, lithium ion batteries and lead acid batteries will be equally capable of doing the job. Lead acid batteries are familiar technology having been around since the advent of electric powered materials handling equipment. However, they take a long time to charge and changing them over in multi-shift applications takes time out of the working day and also requires specialist changing equipment.
"Lithium-ion batteries by contrast remain in the truck and are simply plugged into the mains with no dangerous emissions or risk of spillage, they charge quickly, are more efficient in their use of mains electricity, are maintenance-free and have a longer lifetime," he says. "Battery technology hasn't really changed in the past 12 months, the technology has been available for MHE for about five years and Linde MH was an early adopter. What we have seen is a greater awareness among our customers about lithium ion batteries and their benefits, and the industry is becoming more accepting of them. At Linde MH we have now adapted the majority of our range, so customers have the option of choosing lithium ion or lead acid battery versions of our trucks. Demand is definitely increasing and we're expecting to see more customers make the switch to lithium ion batteries in the coming years.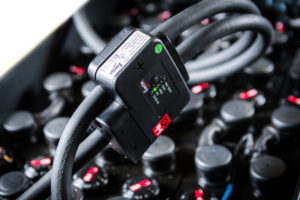 Hyster's Ireland says that lithium-ion is becoming a popular power option for lift trucks, particularly in operations where there is a priority to reduce contamination. Ireland says that this is because lithium-ion has no acid which could spill and no fumes – hydrogen and other gases can be produced by lead acid, which are unwelcome in clean production and storage areas.
Battery selection, and associated technologies – such as charging, is a crucial consideration for many customers says CombiLift's McVicar. "This is a key discussion we have with customers when analysing their requirements. And it is one we are having more and more due to many factors. Efficiency, running costs, along with environmental concerns and external pressures such as emissions and noise pollution need to be taken into account.
"Due to Covid-19 there has been a steep rise in demand for warehousing space and therefore for narrow aisle forklifts, and this has led to a doubling in demand for our warehouse layout service, which helps operations to maximise their current available space. Trucks operating in the warehousing sector, which is set to grow in the foreseeable future, typically work indoors, so electrification is here to stay. During 2019 more than 80% of forklifts working in warehousing operations in Europe were electric powered."
Jerry Rudd, author of 'A Practical Guide to Logistics and Health and Safety in Logistics', says that taken overall, the use of lithium-ion batteries does have a clear advantage over lead-acid types in most situations. He says that there are clear economic advantages over the longer term and there is an equally clear operational advantage.
"It requires less electricity to recharge a Li-ion battery than a lead acid type, and the cost of maintenance is also lower.  Such batteries will also have a longer life, and fewer replacements will therefore be needed over the life span of a truck," he says, adding that it information on the performance of old lithium-ion batteries is lacking as they simply have not been in widespread use for long enough for anyone to be sure.
"Lithium-ion batteries are also cheaper to maintain: there is no requirement for topping up, for example.  However, it should be noted that such batteries do not normally permit replacement of individual components, nor is it possible to replace a battery with another which appears to physically fit.
"Taken overall, whilst the initial cost of Li-ion batteries is higher, their running costs are lower.  When costs are measured over the whole life of a truck, they do have a clear cost advantage. It is to be expected that as with all new technologies, the initial cost difference will narrow as more widespread use develops, and the overall economic benefits will become correspondingly greater."
Beyond batteries
Battery-powered forklifts account for approximately one-third of the UK market, according to the British Industrial Truck Association (BITA).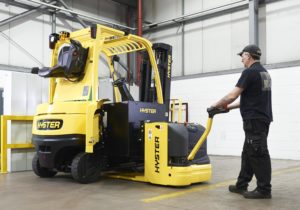 David Goss, technical manager at BITA, explains that historically there has been a clear separation between fuel types and end uses. As a general rule of thumb this translates into electric in warehouses, diesel for more rough terrain and LPG where you need to do motion between the two.
"Lithium-ion batteries should have come along and been a game changer for the industry," explains Goss, adding that there is still an opportunity for lithium-ion to be a game-changer in the future, but not for the intralogistics work of today.
"That is because many warehouse units do not have the right charging infrastructure for fast charging to be able to charge a fleet of lithium-ion trucks. The electricity demand to do that is very large. Is there sufficient electricity capacity coming onto the whole site? It is government that is responsible for infrastructure, so it cannot be left to industry to decide what route it is going to take. They can only do what is practical for their business to do."
BITA recently worked with Calor Gas on a survey of forklift fleet operators when it comes to fuel use. The survey found that 95% of those working in materials handling felt that much more could be done to lower their carbon emissions.
It also found that 30% believed that businesses should receive tax breaks if they can demonstrate annual carbon reduction achievements, while 31% support penalties for failing to achieve carbon reduction targets.
Some 64% of electric forklift truck users said they have to reduce outputs at certain times of the day while the same proportion (64%) of electric users had altered their production and/or work schedules to fit around charging times
Andy Kellet, forklift truck specialist, at Calor said: "LPG has always been classed as a drop-in fuel. The investment in equipment is comparatively cheap compared to big electric installations."