Lockdown created seismic shifts in consumer behaviour, and the early evidence is that traditional buying patterns will not return. As a result, the demand for logistics space to serve an unsated appetite for e-commerce is high as market trends were accelerated. But are there enough big sheds to satisfy demand? Liza Helps investigates.
At what point do you call it a supply problem? For Andrew Smith, partner at Carter Jonas it is 'the perception that as soon as you want some space, it is never in the right place nor is it the right size – but that does not necessarily mean there is a shortage'.
Indeed Len Rosso, head of logistics and industrial at Colliers, is quick to point out: "As it stands, there is enough of the dynamic for take up and availability is about the perfect temperature." Greg Cooper, director of Hines, is in accord: 'The vacancy rate is about 6.5% at the moment, which is a fairly healthy level, there is roughly 32 million sq ft of supply in the market and the market right now is in rude health."
There has been an increase in overall supply coming into 2020. William Merrett, associate director at BNP Paribas, says: "Having fallen to record lows in recent years, available supply has ticked upwards over the last 12 months."
Savills' latest Big Shed report noted that in the first half of the year, overall supply rose by 0.34 million sq ft.
"There is roughly a year's worth of supply ", says Andrea Ferranti, head of industrial and logistics research at Colliers, 'but things can turn pretty quickly."
And the perception is, that it has.
Much of that lies in the fact that lockdown did not stop occupiers from taking up space, if anything it drove take-up to new heights.
Bjorn Hobart, partner at Tritax Big Box, explains: "We are in unprecedented times but one thing we believe that has kept the economy going is logistics. The onset of Covid-19 and social distancing meant that there was an inability to carry on daily business, so to fulfill consumption needs has been through ecommerce channels – a shift to online already identified especially with Millennials and Gen Z.
"However during lockdown this has just been accelerated; what was going to take five years has happened in five months and we have seen that play out with percentage of total retail sales rising from 19% which had been set to steadily rise to 23% to 24% by 2024 now seeing that at 30% as recorded by ONS. Online spending is up 70% year-on-year as at the end of June and all of that has been fulfilled and delivered through logistics."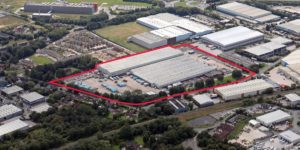 Myles Hartley, managing director at Caddick Developments, says; "It quickly became apparent as far as industrial and logistics was concerned the fact there was an immediate, obvious and rapid acceleration to online shopping accelerating the trend three to five years in as many months – a seismic shift in terms of consumer behavior as consequence of lockdown – we are convinced is leading to a demand for more logistics space."
Property consultants, developers and investors across the board reported record take-up in the first half of 2020 – a far cry from initial thoughts when lockdown struck, and many were fighting to keep deals from falling out of bed.
Strength to strength
According to Paul Farrow, head of industrial agency at CBRE: "The logistics sector has gone from strength to strength through some testing times for the wider market and has just experienced the highest quarterly take-up figures on record."
In the second quarter of 2020 total take-up of 12.78m sq ft was recorded compared to 7.83m sq ft in Q2 2019, the total take-up for the first half of 2020 stands at 19.04m sq ft. This is 44.1% higher than H1 2019 and 4.8% higher than the previous record in H1 2018.
Farrow says: "A large increase in online retail spending has been a key driver in the demand spike, and we expect the appetite for logistics space to continue to grow."
In terms of additional warehouse space required Tritax estimated earlier this year that 65 to 135 million sq ft will be required for online fulfilment alone by 2030 with overall demand at 270 – 350 million sq ft assuming no growth in non-online take-up from its five-year annual average. But that was based on online retailing accounting for 30% of total sale by 2030 – it is already at 30%. So technically already the UK requires 65 million sq ft of new space just to cope with online demand.
For every £1 billion spent online, an average of 868,000 sq ft of new logistics space has been required over the last four years according to research by CBRE. As a rule of thumb this is three times the amount of warehouse space required compared with high street retailing due to the fact that online warehousing has to factor in holding stock which would normally be in shops and having to deal with returns etc.
Looking at that on a per household basis due to an 11% increase in online spending the amount of warehouse space required per household has increased by around a third to nearly 100 sq ft per home.
Last year the British Property Federation's 'What Warehousing Where?' report stated that, at a national level, 69 sq ft of additional warehouse space will be needed per home in order to fulfill deliveries generated by the growth in online retail, that was calculated with online retailing accounting for just 21.4% of all retail transactions in the UK – a figure that has been surpassed by more than 10% in the last five months.
The most recent ONS report puts online shopping as a proportion of retail sales at 31.8% in June 2020.
A rough calculation puts additional warehouse space required per house built now to take into account the extraordinary online growth is 98.5 sq ft per home. While it is uncertain that online retail sales will not fall back somewhat, as society returns to normal, there are strong indications there has been a lasting and fundamental change in shopping habits.
Recent announcements by government to 'build, build, build' in terms of residential units with a target of 300,000 new homes a year will mean a further 29.5 million sq ft of warehousing space required each year to accommodate it.
At present government targets have not been met, though there is strong political pressure from government to do so with the new planning white paper going through parliament. In 2019 only 150,436 new homes were completed.
Integral elements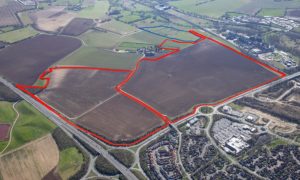 The BPF said, at the time of the What Warehousing Where? report's publication, that: "The movement of goods to and from businesses and people is an integral element of the economy. Warehousing and logistics underpin the efficient operation of most, if not all, business sectors – and, to fulfil consumer demand and meet expectations for quicker deliveries, the right volume of warehousing space in the right locations, with the right transport infrastructure, is essential.
"Only two of the past six years, however, have seen total warehouse floor space in England grow by more than 20 million sq ft."
As well as the acceleration of online shopping and resultant increase in warehouse stock to accommodate its growth the coronavirus crisis has also highlighted other supply chain issues that could also increase demand for space. In its most recent half year property report Avison Young notes: "The impact of the virus has shown the need for more contingency stock holding to increase resilience, which is expected to be further pronounced by Brexit as occupiers look to meet customer expectations for just in time deliveries, mitigating inevitable port delays."
Chris Harworth, chief executive of Gateway14, which is bringing forward new 2 million sq ft warehouse scheme in Suffolk, explains: "One important aspect of the crisis exposed by the lockdown and the resultant panic buying, is the vulnerability in the supply chain to deliver. Supermarkets, and other retailers, quickly realized that the reliance on just-in-time deliveries, whilst saving on the amount of warehouse space required, were not able to cope with large fluctuations in demand.
"This, coupled with the disruption of international supply chains caused by the lockdown, has led retailers and others to realize that they need to hold more stock locally, and therefore have the availability of a greater amount of warehousing space."
Kevin Mofid, head of logistics and industrial research at Savills, agrees: "While it is too early to establish a clear trend we believe occupiers are preparing to move towards a 'just in case' supply chain rather than 'just in time'."
To put it plainly Harworth says: "If you couple this with the increased demand for warehouse space that was being driven before the pandemic by the growth in the online retailing sector, it has meant that warehouse space has not kept up with demand."
And the big thing about demand is that there is a flip side – a resultant decline in the amount of supply immediately available. If demand is perceived to have gone up and looks like it will continue to come through, then it is understandable that looking at the supply side that is perceived to have dropped.
With the benefit of hindsight, we know that demand for warehousing space has continued unabated, but this wasn't a certainty when the country first went into lockdown, " says Merrett. "Understandably, developers were quick to adjust their development pipelines holding off new announcements due to the uncertainty and economic impact of the pandemic.
"There are also a practical impacts to take account of, many construction sites downed tools and stopped for a number of weeks as they attempted to interpret government guidance on who could/couldn't go to work. Construction activity was relatively swift to re-mobilise post-lockdown, but new build delivery in 2020 will still fall below the 9.2m sq ft recorded in 2019."
Speculative development slows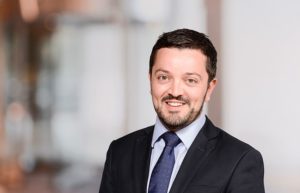 Looking forward, for Mofid this poses questions: does the current situation make it less likely for speculative development and does the current situation make it more likely for additional secondhand space to come to the market?
"We have to make assumptions that we are going to see less speculative development because of the inherent uncertainty in the market."
Andrew Pilsworth, director of finance at SEGRO, agrees: "There is a feeling that new speculative development starts have reduced in general."
Certainly, half-year reports have pointed to a reduction. Mofid says: "We have had four million sq ft [of speculative space] announced in the first quarter of the year and 900,000 sq ft in the second quarter – so far we have not had any announcements for speculative development commencing in the third quarter. So speculative development is likely to be lower going forward and this will mean that probably Grade A space will diminish in the next 12 months."
That is not to say that developers are stopping speculative development, those that have on-going commitments are continuing. However, when considering whether to press the button on speculative development there is an air of extreme caution.
Cooper says: "Right now could be the right time to lean into the spec development market due to market fundamental especially as there looks to be an even more acute supply shortage next year."
However, he notes that many investors looking at the overall economic picture are looking at the risk profile very closely and construction finance is harder to come by.
Tom Leeming, development director at Tritax Symmetry, says: "We are certainly looking at speculative development and clearly it needs to be undertaken but only having assessed the market very carefully and looking closely at market dynamics at a local and regional level."
Northern giants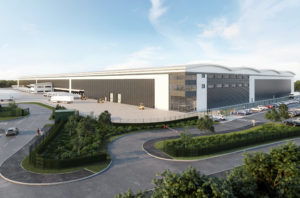 Industrial developer Panattoni, has instructed Caddick Construction to commence the speculative development of AEW's Wakefield515 in West Yorkshire.
The building is set to be the largest speculative warehouse under construction in the North of the UK this year and signifies one of the sectors' largest commitments since the emergence of the Covid-19 pandemic. The unit is anticipated to be ready for occupation in Q2 2021.
The 515,000 sq ft cross-docked warehouse will benefit from generous yards of up to 100m and will incorporate sustainable features including rainwater harvesting systems, use of energy efficient materials, PV ready roof and LED motion sensor lighting. The building will be built to a BREEAM rating of 'Very Good' and EPC rating of 'A'.
Andy Preston, development manager at Panattoni, said: "There is a lack of supply of large warehouse facilities along the M62 corridor, and despite tougher economic conditions as a result of the on-going pandemic, e-commerce remains strong and we believe that the new development of Wakefield515 will attract a high level of demand."
Mike Haigh, partner at Dove Haigh Phillips, said: "Speculative development of large distribution units in Yorkshire have been scarce over recent years while demand has taken-up all existing supply. The pipeline of new development remains thin so Wakefield515 will be a key addition to the Yorkshire market."
Joint agents are Dove Haigh Phillips and JLL.
As with regards secondhand space coming back to the market Mofid says: 'Therein lies the big unknown – are we going to see tenant defaults and space back on the market? We haven't seen much of it yet – if at all – but you lose more companies coming out of a recession than going in and in terms of the economic environment we are still in the eye of the storm."
The logistics market will not be immune to the downturn. Indeed, Andrew Jackson, principal at Avison Young, says: "So far, we have seen a limited amount of space come back to the market, but this is likely to increase as consumer spending declines. And of course, there are some sectors that have fared much worse than others. For hospitality and some fashion and high street retailers, the end of lockdown can't come soon enough."
Avison Young is currently marketing Rockingham 528, which totals 528,108 sq ft, with Colliers for occupier Staples.
The cross-docked building, which Staples is looking to assign, is thought to have a passing rent just over £5 per sq ft. It was leased by Staples from SEGRO in 2014. It is has 50 dock and four level access doors, 15m eaves and is fully fitted and racked. It has 98 HGV and 336 car parking spaces.
However, Cooper notes: "While the current environment could see an uptick in secondhand space coming back to the market with companies going under, because of the supply situation it would have to be a pretty monumental amount to drastically skew it."
Jackson agrees: "On the whole, we expect much of the downturn in activity to be offset by those structural changes that are benefitting the industrial and logistics warehouse market."
Hotel Chocolat has snapped up warehouse space vacated by fashion retailer Cath Kidson at Alpha Plus on the Alpha Park development at St Neots in Cambridgeshire.
Alpha Plus was developed speculatively by Miller Developments and funded by AXA Sun Life. It had been sub-divided to provide two self-contained warehouse buildings one occupied by Cath Kidson on a 10-year term from 2010 and one by Hotel Chocolat.
The Huntingdon and Royston based chocolate retailer moved in to the 105,000 sq ft space vacated by the fashion retailer in order to facilitate expansion part brought in by a boost in sales during lockdown.
The lack of supply in certain areas and regions (see box) is focusing occupiers on acquiring space quickly especially if this additionally ticks the box in terms of longer-term warehousing strategy.
Anthony McCluskie director, UK asset management at Logicor, says: "There is an increasing awareness that if buildings are available, occupiers are going to have to move quickly especially in those core locations."
In July Scottish frozen food retailer Farmfoods snapped up Logicor's Solihull262 unit days after the previous tenant vacated the site.
The deal completed in just two weeks from start to finish and the company is now moving in having secured a 20-year lease at a rent of £6.75 per sq ft. Solihull 262, totals 262,114 sq ft and is located within 2 miles of J4 of the M52 motorway and in close proximity to the intersection with the M40 motorway at Junction 3A. JLL, DTRE and McGuinness Waddington Real Estate (MWRE) acted as joint letting agents.
In a similarly speedy deal Harrogate based CoreCare Global secured a 400,000 sq ft distribution centre on a 20-acre site at Wakefield Europort in West Yorkshire within two weeks of enquiry.
The company leased cross-docked distribution facility, known as California 400, just off Junction 31 of the M62 motorway to support ongoing work that the company facilitates to the healthcare sector. The site was acquired by Broadland Properties from Argos, which occupied the facility until the beginning of July. Letting agents were Gent Visick Carter Towler and Colliers International.
Daniel Walker, surveyor at Gent Visick, says: "There's no doubt that completing such a significant let, in less than a fortnight, highlights the scarcity in supply of quality buildings in the market."
Less than a year's worth of supply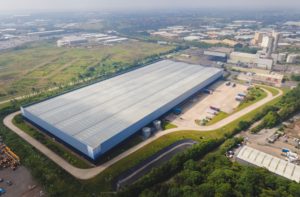 Two regions in the UK have particular supply shortages; The East of England and the North West and in both cases the chronic shortages could impact on future economic growth.
According to Savills latest Big Shed Briefing, there is less than a year's worth of Grade A warehouse supply in units over 100,000 sq ft currently available in the East of England. This can be attributed to the recent up-tick in transactional activity, which means just 1.26 million sq ft remains across six units.
Savills notes that just 15% of supply in the East of England is classed as Grade A, compared with 45% this time last year. In fact, further analysis shows that 41% of supply is currently not fit for purpose and unlikely to be able to accommodate modern occupier requirements. At present, there are only two units under construction at Gateway Peterborough totalling 611,000 sq ft, which are due to complete imminently.
However, looking ahead, there are sites such as Gateway 14 in Stowmarket, which is being developed by Jaynic. However, the scheme will not be ready for occupation until 2022.
William Rose, head of commercial agency at Savills, says: "Warehouse supply in the East of England remains chronically low and is likely to impact future take-up. We know that demand remains high, particularly from online retailers who are well placed to capitalise on evolving consumer habits following the Covid-19 lockdown, but despite the East being a key strategic location there is simply nowhere for them to go."
In the North West the problem seems even more frustrating. Angus Huntley, development manager at Stoford, says: "There is less than one year's supply in the region and because of that occupiers that can, are looking elsewhere."
The problem is so acute that Jason Print of Gerald Eve says there is just one building over 300,000 sq ft available – the former Sports Direct unit in Wigan.
Len Rosso, head of logistics and industrial at Colliers, adds: "There is almost nothing available of any real size even on potential development sites because the Secretary of State has called six of them in – there is a massive under supply."
Print says: "All of the sites are ideal for occupiers, but the problem is how long will an enquiry take – 18 months to two years before it is finished?"
It begs the question what is the region going to do for development space in the meantime. Schemes called in include investor developer Tritax Symmetry's 1.44 million sq ft warehouse scheme Symmetry Park Wigan.
The 134-acre scheme secured planning permission in January this year and represents a construction investment of £73m from Tritax Symmetry. The site sits within the Green Belt and had been identified by Wigan Council as suitable for logistics development in its April 2018 Employment Land Position Statement. The draft Greater Manchester Spatial Framework has also identified the site for release from the Green Belt.
Wigan Council has identified that it does not have sufficient land outside the Green Belt to meet its employment land needs.
Langtree and St Helens Council's proposed regeneration of the 230-acre former Parkside colliery site in Newton-le-Willows has also been called in. The council approved the 1 million sq ft scheme earlier this year.
Other schemes called in include Liberty Properties and Eddie Stobart's plans for a £75m national distribution centre opposite its existing headquarters on Barleycastle Lane in Warrington and Harworth Group's 1 million sq ft Wingates scheme in Bolton.
This feature originally appeared in the September edition of Logistics Manager. The next Big Sheds analysis will appear in the November issue.