As online sales continue take an ever greater share of retail trade, even the industry leaders can face challenging times as they battle to cope with demand, writes Penelope Ody.
Once regarded as the poster child of online fashion retailers, the recent problems at Asos – "as seen on screen" – typify key issues for many in the sector.
With its free delivery/free returns promotional message, the company – as with others in the apparel market – encouraged those multiple orders which have become the norm for so many shoppers: order several versions of the same garment in assorted sizes or colourways, try on at home, keep one and return the surplus. It's not a new approach – mail order firms decades ago were all too familiar with the trend, which in those days produced returns rates of 40% or more.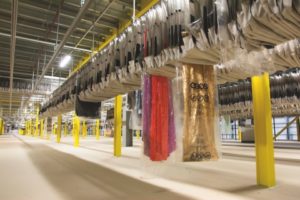 In the pre-Internet world, however, mail order, only ever accounted for a small proportion of clothing sales with a limited number of shoppers. With the arrival of e-commerce it is very different and the "buy-try-return" approach has become the preferred approach of many. There have also always been those who prefer to "buy-try-wear-return". In the real world, sharp-eyed – and often sharp-tongued – sales staff were adept at spotting tell-tale signs of wear. In a busy returns processing centre with less vigilant staff that may not always be the case, so small wonder that earlier this year Asos chief executive Nick Beighton announced a crack down on "serial returners" – easily identified by using big data analytics to track and assess every individual customer's purchasing patterns. As Beighton put it: "These guys are treating the Asos proposition sometimes, regrettably, as a rental service". The free delivery/free returns proposition remains – except for those persistent offenders who may in future be discreetly "blacklisted" or denied multiple garment orders.
But excessive returns – with the resulting loss of margin as much-travelled garments become unsaleable – is not the prime reason for Asos' woes: "woes" that have seen the company issue three profit warnings in eight months and its share price fall by around 60% in the past year. No. It has been the age-old problem of implementing new warehousing systems and the chaos resulting when not all goes according to plan.
As a global player Asos has understandably developed distribution centres in key markets. The latest, its "Eurohub 2"  in Berlin and a major warehouse in Atlanta, have not been trouble free with Beighton admitting, after the profits warning in July, that ambitious targets for both sites would be missed and sales growth in both Europe and the USA held back by the warehouse transformation plans.
"Embedding the change from the major overhaul of infrastructure and technology in our US and European warehouses has taken longer than we had anticipated," he said, "impacting our stock availability, sales and cost base in these regions."
In the US the issue has been more to do with many of Asos' popular third-party brands – often from small specialist companies – struggling to cope with customs compliance as they enter the US market for the first time, leading to poor stock availability with supply failing to meet demand.
In Berlin, however, the automated warehousing system has been accorded the lion's share of the blame. Reputedly it was fairly efficient at retrieving stock, but tended not to put inbound supplies away quickly enough and also had issues with handling returns, so leading to apparent stock shortages and mis-picks with resulting customer dissatisfaction and reduced orders. As everyone in the online retailing world knows only too well, mess up a customer's order just once and you may well lose them for good.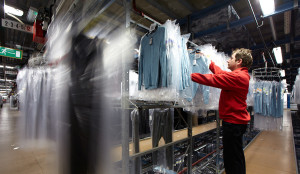 The problems have been largely solved but, as Beighton has said "… the magnitude of the impact was ahead of our expectations, both in terms of the scale of disruption and the complexity of the issues we faced and hence, time taken to unpick and resolve".
The history of supply chain implementations is littered with companies which have faced similar problems  – including some which didn't survive them. Those with long memories may no doubt recall Adidas' disasters with new warehouse systems in the 1990s which led to an 80% fall in shipments and hit market share for years or there was the failure of Nike's inventory management technology in the early 2000s with a similar shortfall in supply and lasting knock-on effects.
Efficient and cost-effective fulfilment for online orders is paramount – not only to ensure customers keep coming back, but also to maintain margins squeezed by all those free deliveries and free returns. For some companies "keeping costs under control" involves paying staff minimal wages, as well as enforcing timed toilet breaks, invasive security checks and punishing work targets, resulting in headline-hitting exposés at the likes of Amazon, JD Sports and – indeed – Asos. As one union leader said recently: "'The warehouses of some companies risk becoming the dark satanic mills of the 21st century."
Increased warehouse automation with use of robotic picking and AI tools are seen by many, despite the substantial investments necessary, as vital solutions to ensure long-term profitability – as well as to reduce costs, solve any upcoming labour shortage issues and help put an end to some appalling working conditions. But, as Asos has learned, automated systems are not a "quick fix" and implementation needs careful planning to minimise business risks: if it goes wrong, then the resulting damage to sales and profitability may take years to fully overcome.
Columnist Penelope Ody is a retail market specialist. This article originally appeared in the October 2019 edition of Logistics Manager: click here to subscribe to the print edition