The November 2019 issue of Logistics Manager is out now in print, online as well as for the iPad and Android.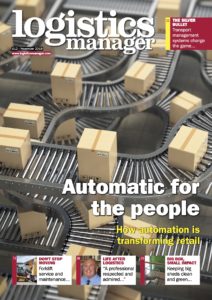 Cover story: Automatic for the people
Is automation feeding the growth of e-commerce, or is e-commerce feeding the growth of automation? Whatever the answer, the logistics of the retail sector has fundamentally changed.
IT Transport Systems: The silver bullet of logistics
There is no margin for error as customers expect speedy delivery times, exceptional service and reduced costs.
Forklift truck service and maintenance: A two-sided strategy
Improving the service and maintenance of forklift fleets is a complex task driven by technology, planning and design.
Life after Logistics Manager
In September Malory Davies retired as Editor of Logistics Manager. We celebrate his distinguished career.
Property
Could big sheds save the world?
Regarded by some as 'cathedrals to mammon', warehouses could play an unlikely, yet pivotal role in the climate crisis.
To be or not to be…
Why traditionally non-core logistics locations are now all the rage…
---
Click here to subscribe to the print edition of Logistics Manager