L&S Waste Management Limited has taken on six new Scania P 410 8×4 tippers as part of its fleet replacement programme.
The 18-plate vehicles have 410 horsepower Euro 6 engines. The vehicles are fully loaded with safety features, including a four-way camera system, left audible warning device and dirt repelling lighting.  A five-year full repair and maintenance plan is included.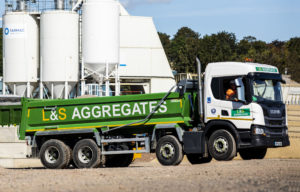 "It is important for us to be running the most environmentally and economically efficient vehicles possible, which is why we chose Scania," said L&S Waste Management Limited managing director Mick Balch.
"As well as having a good product, the level of service we get is exceptional. Importantly for us, our vehicles need to be robust and reliable," he continued.
"Being able to rely on good suppliers is incredibly important to our business. Working with Scania gives us the peace of mind that our vehicles will be fit for purpose, and means we don't have to worry about this side of the operations."