Mackworth Vehicle Conversions has launched a cycle safety door, the Mackworth Cycle Vision, for selected DAF, Renault and Volvo vehicles.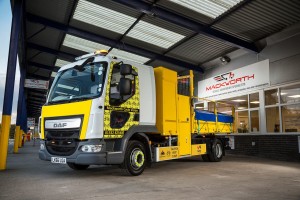 The door has an extra glass panel to provide improved vision of the nearside kerb where cyclists could be unseen otherwise.
The conversion costs £1,500 and involves fitting the safety glass into a panel on the original door, maintaining all the existing wiring looms and switches, without any regulators or rails obstructing the drivers view.
In addition, the Mackworth product has been designed to keep the passenger window fully operational.  By adapting the window to a horizontal slide, the driver is able to use the window for air circulation or as an exit in an emergency.
Andrew Kent, general manager at Mackworth Vehicle Conversions said: "Our aim in developing this product was twofold, firstly to provide drivers with an unobstructed view while ensuring they still had the comfort of an opening window, and secondly to provide operators with a product at an achievable price, with the added bonus of fast, nationwide fitment."