Maersk Line €3.7 billion acquisition of Hamburg Süd, the German container shipping line, has been approved by the boards of both companies and now just needs regulatory approval before it can be completed.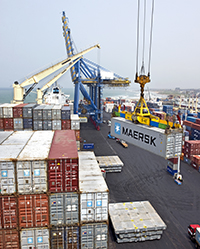 Hamburg Süd will be maintained as a separate brand, but Maersk expects to find some $350m to £400m in saving through operational synergies in the first couple of years following completion.
Søren Skou, chief executive of Maersk Line and AP Moller – Maersk, said: "Today, we have taken a decisive step towards the shared future of Maersk Line and Hamburg Süd. Our due diligence confirmed that Hamburg Süd is a well-run company with strong and highly respected brands.
"We have confirmed the anticipated synergies and we are convinced that our plan to maximize customer retention is the right path forward. I have no doubt that together we can develop new competitive products to the benefit of our customers and exploit operational synergies. The acquisition is cementing our position as the largest and leading carrier in container shipping, and it will provide great opportunities for the employees of both companies."
The transaction is expected to be completed by the end of 2017. With the acquisition, Maersk Line and Hamburg Süd will have a total container capacity of around 3.9 million TEU (3.3 million TEU) and an 18.7 per cent (16.0 per cent) global capacity share (Alphaliner per 24 April 2017). The combined fleet will consist of 743 container vessels.