AP Møller – Mærsk, the world's largest container shipping group, plans to grow by focusing on the demand for end-to-end services, and expanding its inland services, chief executive Søren Skou has told investors, analysts and bankers at the group's capital markets day.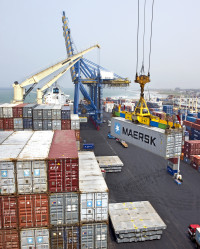 In September, the group set out plans to become an integrated transport and logistics company, and separate out its Maersk Oil business. It also plans to acquire Hamburg Süd.
The new strategy means that Maersk Line, APM Terminals and Svitzer will work on a "pit stop" strategy to make port calls more efficient. Damco, APM Terminals and Maersk Line will look at offering inland services which all customers need but only 12 per cent currently buy from the division.
Skou said: "Our unique position in transport and logistics gives us a solid starting point to build on. We will meet the needs of the customers for end-to-end services and by doing so we will improve returns though revenue growth, cost cutting and other benefits."
The group said it also plans to digitalise "everything that can be digitalised" to provide online services to improve the customer experience and reduce costs.
Any need to build new vessels in addition to the current order book was brushed away, promising a lower level of capital expenditure in coming years. "The industry doesn't need any more ships and we don't need to build in coming years," Skou said.