The March 2018 edition of Logistics Manager is now out in print, online and for iPad and Android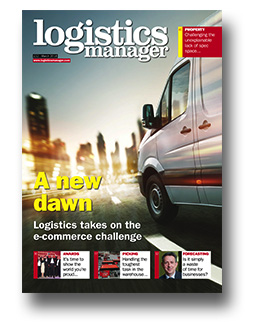 Cover story: A new dawn
Retailers are increasingly dependent on e-commerce to drive growth. We look at the logistics strategies to tackle the challenge
Awards: Time to shine
It's time to show the world that you have a supply chain to be proud of. The 2018 Supply Chain Excellence Awards are now open for entries.
Penelope Ody: Brexit Brouhaha
Leaving the single market does not mean supply chain executives must wring their hands in despair – after all, they've faced predictions of doom before.
Forecasting and S&OP: Moving with the times
Sales & operations planning seems to be flourishing with new developments around every corner.
Round table: Braving Brexit
Industry leaders discussed the challenges facing retail, logistics and supply chain at our round table sponsored by DP World.
Order picking: Pickface challenge
Order picking is possibly the single most challenging task in the warehouse.
Racking: Don't take it for granted
Warehouses are changing faster than ever, driven by the growth of e-commerce, automation and even robotics.
Award winners reveal all (well, some) of their secrets
The Supply Chain Conference brings together some of the world's most inspiring experts to examine the critical issues facing the industry. Find out who will be there…
Spec development: Good news on the horizon…
Caution seems to be the watchword for developers and investors of speculative development.
London: Full of eastern promise
While there may not be space immediately available for occupiers in the M25 east, there are still plenty of opportunities…
Click here to subscribe to the print edition of Logistics Manager